Find Your Voice at IES 2020
Trinity University, San Antonio, Texas, USA
IES 2020's theme is all about "Finding Your Voice," whether you are a singer, leader, director, seasoned member, or newbie. By investing in ourselves and empowering others to be the best they can be, we can all sing together as one huge voice for the future of Sweet Adelines International. By finding our voices, we will be able to truly live "Life on a High Note"!
INVEST In Yourself. EMPOWER Others. SING As One!
Registration
Registration is now open online, by mail and fax. What's included in your IES registration? How and when do you need to register to receive early bird rates? Check out the Registration Webpage for all the details or use the button below to register online!

Event Co-Chairs
Learn from experienced faculty members like co-chairs Cammi MacKinlay, 2019 Sweet Adelines Lifetime Achievement Award recipient, and Vickie Maybury, Master 700 Director of Skyline Chorus and certified Expression Judge.
World-Class Faculty
We've got the lineup of your IES 2020 Guest Faculty and Sweet Adelines Faculty. Check out the Faculty Webpage and get inspired!
Classes and Event Schedule
Create an individualized class schedule based on your needs, or choose a schedule designed specifically for certain focus areas! View the Class Descriptions Webpage to pick out your favorites, and then see the Schedule Webpage to plan out your IES experience.
Special Events
Rising Star Quartet Contest • Friday, July 24, 2020
Registration to IES 2020 includes admission for non-competitors to the 2020 Rising Star Quartet Contest!
View Contest Event Page for more information.
Symposium Choruses
Learn, socialize and sing alongside fellow Sweet Adelines in our Symposium Choruses.
Details coming soon on how to sign up to sing!
Singing in San Antonio, TX
Sing with friends in the artistic and historic city of San Antonio.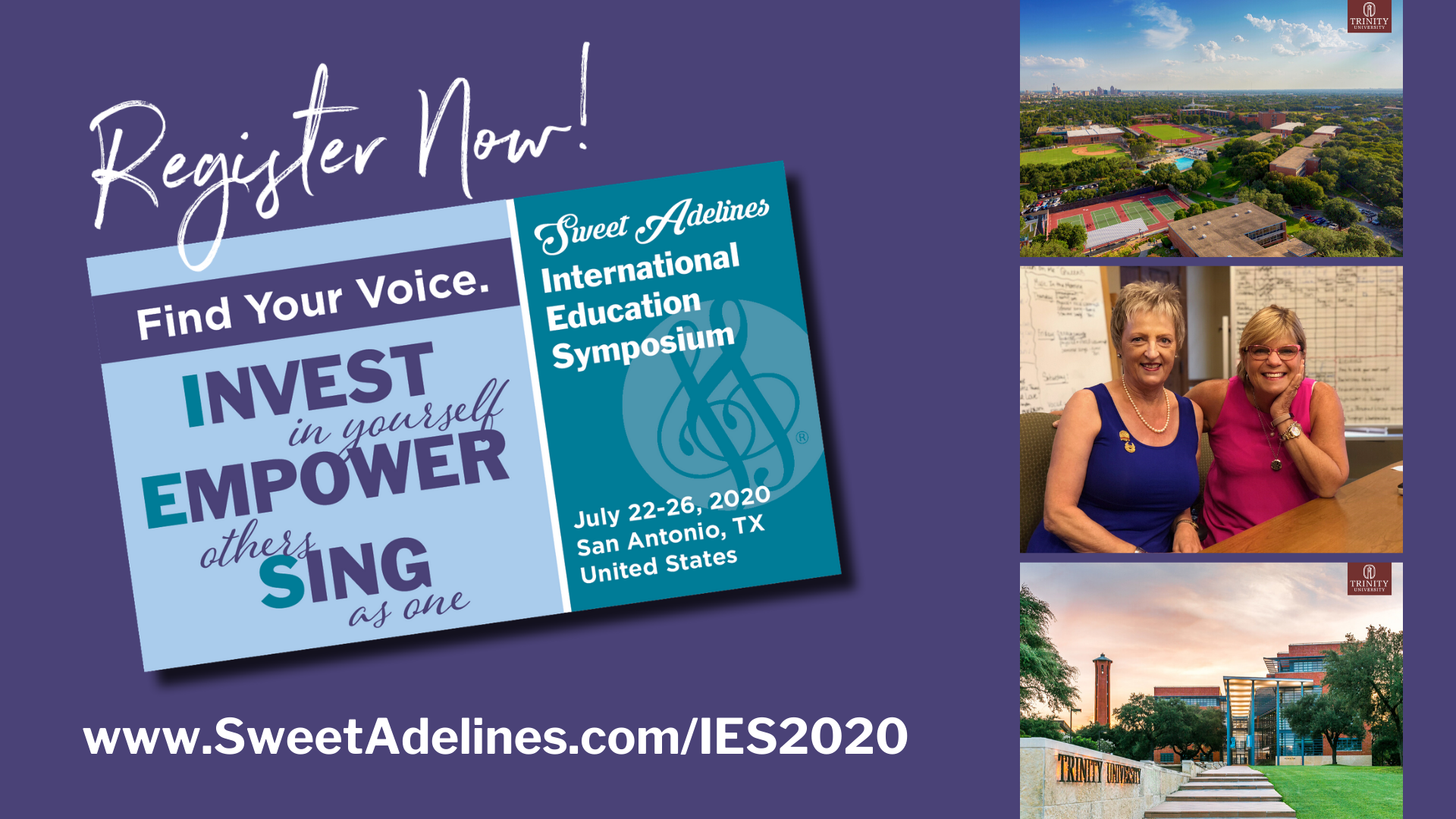 INVEST In Yourself. EMPOWER Others. SING As One!
Event Questions?
Sweet Adelines International
Events Department
events@sweetadelines.com