IES 2020 Registration is Now Open!
Registration Rates: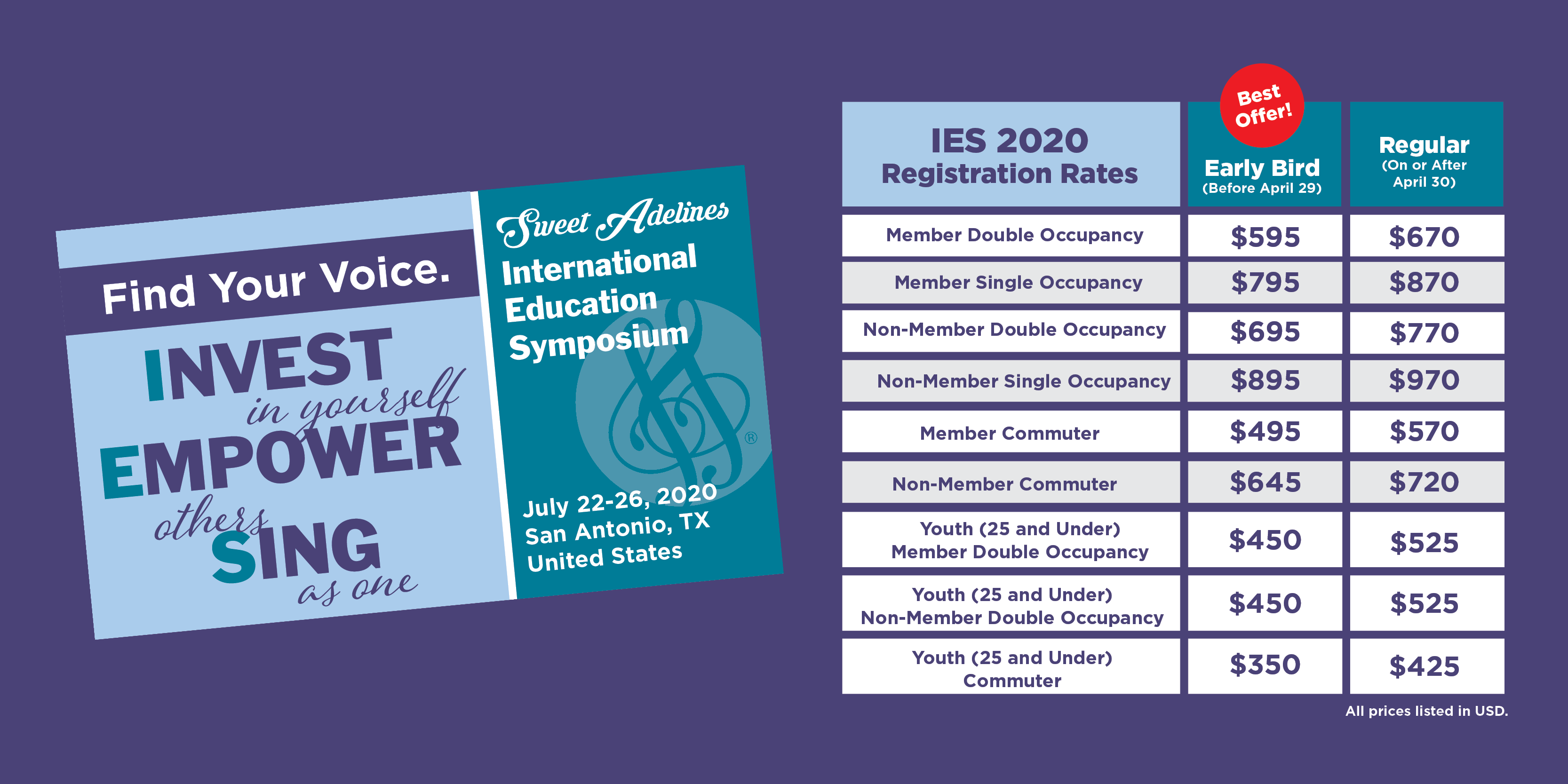 Go Back To:
Register Now:
Registrations accepted online and by mail or fax.
Register Online

Register by Mail or Fax
Since the filling of forms is not supported in your browser, you must first download the registration form, and then save it to your computer or device to complete.
Registration Confirmation
All online registrations will receive immediate confirmation via email. All mailed or faxed registrations will receive an email confirmation within 2 business days of receipt.
Important Dates:
April 29, 2020
Registrations received on or before April 29 will receive the early bird rate.
Full payment and all registration and class selection forms must be received on or before April 29 to qualify for the early bird rate.
June 1, 2020
Housing and roommate request changes will be accepted until June 1, 2020.
All requests must be made in writing and sent to events@sweetadelines.com.
June 19, 2020
Last day to register. New registrations will not be accepted after this date.
Your IES 2020 Registration includes the following:
Housing on campus from Wednesday, July 22–Sunday, July 26.
Three meals a day, beginning with dinner on Wednesday and ending with breakfast on Sunday.
An exciting Opening Session featuring a Keynote from Lisa Popeil.
Three full days of classes designed with YOU in mind.
Admittance to the Rising Star Quartet Contest on Friday, July 24.
Access to the Closing Show featuring performances from Viva!, 2020 International Champion Quartet; 2020 Rising Star Champion Quartet; YWIH Chorus; Symposium Choruses; and more!
You'll have ample free time to connect with old and new friends, sing tags at the pool, explore the Riverwalk in San Antonio, or do your own thing!
Housing:
On-campus housing will begin *Wednesday, July 22, prior to 1 p.m. and will end the morning of Sunday, July 26 at noon.
All rooms in the residence hall are primarily in a suite arrangement (two beds per sleeping room, four beds per suite, with a connecting bathroom). Linens (mattress sheet, sheet, blanket, pillow and pillowcase, towel and washcloth) are provided with each room. Microwaves and mini-fridges are available in each room. Complimentary Wi-Fi is available throughout campus.
You will be given the opportunity to list a roommate request and suitemate request at the time of registration. Please note requests are not guaranteed but will be met to the best of our ability. If roommate requested is not registered at the time room assignments are made, registrant will be assigned a roommate.
*Regional leaders will arrive on Tuesday, July 21 for a Tuesday opening session and all-day Regional Leaders' Training on Wednesday.
Residence Assignments
Residence and Roommate assignments will be emailed approximately two weeks before the event.
Class Selection:
Create an individualized class schedule based on your needs, or choose a schedule designed specifically for certain focus areas!
Focus areas with specially-designed class schedules (tracks):
Aspiring Judge (Session 9, 13, and 17 are open for class selections)

Quartet (This track fills all sessions)

Young Women in Harmony (Session 11 and 13 are open for class selection)
Create an individualized schedule by choosing classes from the following focus areas:

View the class descriptions and the schedule for more info!
Symposium Chorus:
Symposium choruses offer a very exciting creative, learning, and performance opportunity! Experience the creative process of developing, staging, and performing a ten-minute performance package led by world-class directors paired with outstanding creative consultants. The IES 2020 Symposium Chorus will be limited to the first 300 chorus registrants, so sign up early! There will be an option during registration to sign up for the Symposium Chorus. Chorus rehearsals will take place the last couple of sessions each day (noted in schedule), and will culminate with a performance on Saturday night at the Closing Show.
Seminar Songs:
The IES 2020 co-chairs, Cammi MacKinlay and Vickie Maybury, have chosen two songs that will be sung daily at Music in the Morning and will be used for demonstration in many classes. Songs are "Sister Act" and "Crazy Little Thing Called Love". Learning tracks and sheet music will be emailed to registrants several months prior to IES.
Cancellation Policy:
Registration fees will be refunded, less a $50 USD processing fee, if notification or cancellation is received in writing prior to June 1, 2020.
Substitutions can be made without penalty.
No refunds for cancellations will be made after June 1.
Some classes are limited to a certain number of registrants, so register early!
INVEST in Yourself.  EMPOWER Others.  SING As One!
Event Questions?
Sweet Adelines International
Events Department
events@sweetadelines.com