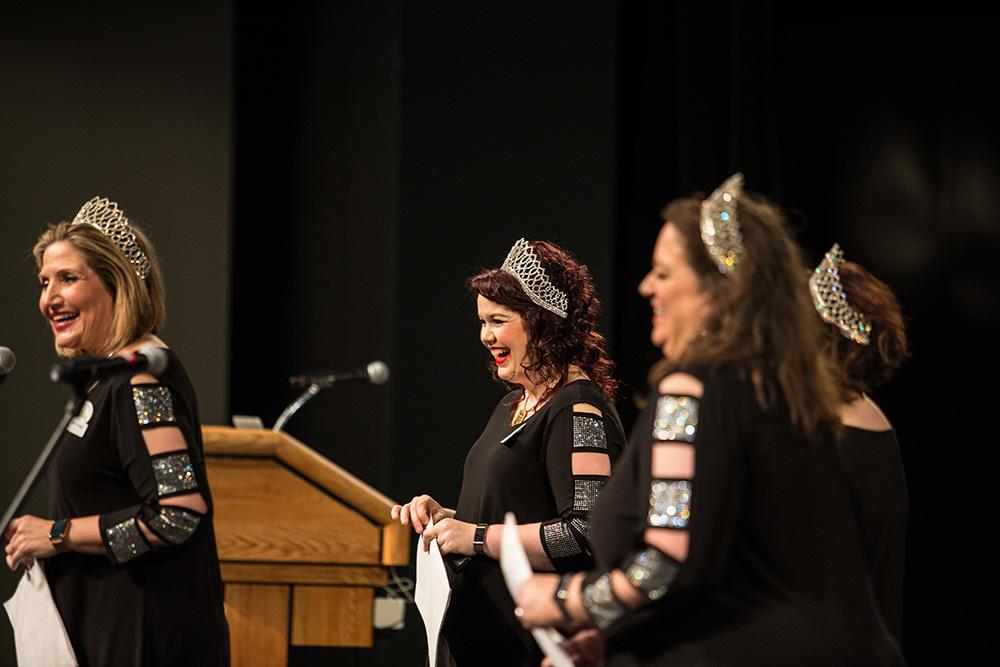 Fired Up for Education in Phoenix!
Find class descriptions, instructors, and where they land on the schedule during International Convention. Don't miss a minute — class sessions are included in your Phoenix registration! CEUs will be offered for class sessions and competition sessions. Details coming soon.
All education sessions will take place in the North Building of the Phoenix Convention Center.
Class schedule subject to change. We will keep you updated.
Monday, September 12
Class sessions begin at 9 a.m.
9–10:30 a.m. · North 121 ABC
Going Live — We're Back (Or Are We?) with Karen Breidert, Lori Lyford and Sandy Marron
Sitting together and meeting as many new people as possible from different parts of the world, attendees will explore how we have navigated the pandemic with an emphasis on looking forward to a bright future. Specifically addressed topics will be gaining and retaining members, camaraderie and morale, and education.
---
10:45 a.m.–Noon · North 121 ABC
Rebuilding Physical and Vocal Stamina with Caitlin Castelino, Anna-Lisa Glad and Mary Rhea
Have you lost some of your vocal and performance capabilities during the pandemic? How can you get them back and be even better than before? This class will introduce and reinforce physical as well as mental techniques to help with vocal/performance improvement. You will learn voice therapy techniques (including straw phonation) that help keep the voice healthy and improve vocal stamina, how to manage stress and anxiety with the art of conscious breathing, and ways to improve physical stamina. Leave with new tools to provide hope and vision toward future possibilities.
---
1:15–2:15 p.m. · North 121 ABC
Show What You Know with Caitlin Castelino, Anna-Lisa Glad and Mary Rhea
Apply concepts introduced in the "Rebuilding Vocal and Physical Stamina" class. In this interactive and participatory class, we'll learn tags and have mini coaching sessions of small volunteer groups to reinforce good vocal and physical techniques.  
---
There's nine class sessions between 2:30–3:30 p.m. Take your pick!
2:30–3:30 p.m. · North 125 AB
RMT Networking with Sharon Cartwright, Elaine Hamilton, Kelli Hinton and Jean Schoenlank
Start your convention experience by making new connections and talking with RMT members from around the world. Meet and hear updates from the Regional Leadership Committee. A great opportunity to see in person those you've met online! Must be a current RMT member to attend.
---
2:30–3:30 p.m. · North 123
Sound Strategies for Small Chorus with Nikki Blackmer and Jenny Harris
Join us for a fun session built around the needs of a small chorus. You'll participate in a series of exercises starting with the individual and building up to a great unit sound that is full-bodied and connected. You'll also learn be taught about key strategies for building a strong learning-focused chorus culture through vocal exercise designed to build strong unit sound and key strategies for building strong chorus culture.
---
2:30–3:30 p.m. · North 124A
Barbershop Arranging: What it's All About with Kay Bromert
Come learn all about what goes into arranging music into the barbershop style! From a brief explanation of the Arrangers Certification Program, to understanding the Circle of Fifths, the overtone series, music choice, as well as planning and creating an arrangement that is strong and singable for the contest stage.
---
2:30–3:30 p.m. · North 124B
The New Director's Certification Program with Julie Starr and Valerie Taylor
What is the Directors Certification Program and why is it something in which I should participate? What are the differences in the old version and the new version? These questions, and others, will be answered in this session.
---
2:30–3:30 p.m. · North 122 ABC
Table Top Discussions: Creating Ambassadors for SA Cammi MacKinlay
Participants in this discussion will learn how to encourage everyone to be ambassadors for the organization, not just their own choruses, by interactively sharing.
---
2:30–3:30 p.m. · North 122 ABC
Table Top Discussions: Directors with Lori Lyford
Meet with other chorus directors to share the different strategies to employ as choruses re-enter live rehearsals.
---
2:30–3:30 p.m. · North 122 ABC
Table Top Discussions: Psychological Prep for Convention with Sandy Marron
We spend a lot of time getting the music and visual plans ready for contest, but what about getting your mind ready? Learn some tricks for how to prepare psychologically for contest to complete the 3-pronged approach of Music Mastery, Visual Mastery, and Mental Mastery.
---
2:30–3:30 p.m. · North 122 ABC
Table Top Discussions: Lead From Where You Stand with Joan Boutilier
Members of Sweet Adelines will explore and share what it means to be an effective leader, how to identify leadership opportunities, and recognize common challenges encountered with leadership.
---
2:30–3:30 p.m. · North 122 ABC
Table Top Discussions: Power of Positive Self-Talk with Karen Breidert
Positive self-talk can enhance our performance, health, and general well-being. Self-talk can be both positive and negative. We will explore techniques for recognizing the negative self-talk and learn ways to shift our inner dialogue to something positive and beneficial in so many ways!
---
3:45–5 p.m. · North 121 ABC
Wrap Up Class with Karen Breidert, Lori Lyford and Sandy Marron
A fun wrap-up class where major themes from the day's education classes are interwoven together.
---
Tuesday, September 13
Three class sessions begin at 9 a.m.
9–11 a.m. · North 121 ABC
Happy Together: Bringing Sweet Adelines Into the Future Through Inclusion
Bring open hearts to this interactive session as we celebrate and explore methods towards building a positive chorus culture through diversity and inclusion.
---
9–11 a.m. · North 122 A
ACP Testing
A room will be made available for anyone wishing to take ACP exams.
---
9–11 a.m. · North 122 B
DCP Testing
A room will be made available for any regional Directors Certification Program Coordinators that wish to schedule live testing.  
---
Friday, September 16
Join us for our annual International Quartet Education Class (Featuring ClassRing, 2019 International Champion Quartet)
9–10:15 a.m. · North 229
Quartet Smarter, Not Harder with Mary Duncan and Michaela Slamka-Johnson (Representing ClassRing)
How many times have you left a rehearsal feeling like you didn't accomplish much after hours of work? Has your quartet had difficulty increasing your level over the years at contest? Are you unsure where to go from your last contest or after a Covid-19-induced hiatus? This class is for anyone interested in gaining tools for smarter quartet rehearsals. As a long-distance quartet, ClassRing learned early on that in order to achieve success, we needed to determine how to work smarter instead of harder. In this class, we will discuss some of our tips, tricks, and techniques for organizational efficiency, music and song selection, getting the most out of rehearsals and coaching sessions, and preparation for contest. We will take you step by step through our process from the planning stages to contest, including some interactive singing while we dive into our favorite rehearsal techniques! This class is open to anyone (quartet not required) and appropriate for all skill and experience levels!
---
Saturday, September 17
Join us for our annual International Chorus Education Class (Featuring Rönninge Show Chorus, 2014, 2017 and 2020 International Champions)
9–10:30 a.m. · North 229
Hat Trick and Then What? with Anna Alvring, Anna-Lena Rickardsson, Annika Krook, Annika Dellås, Elisabeth Mellin and Jan Alexandersson
Our intention with the class is for the audience to become so enthusiastic, inspired and motivated that they'll go home to their choruses and try out which of our "tools" that suits them. We also hope for each individual to leave with a laughter bubbling in their body and a big smile on their face. Our motto is "it's more fun to have fun" and that is constantly present in RSC and a part of everything we're doing. We will have fun during the class and we hope the audience will enjoy that too.
Questions?
Contact Sweet Adelines Education Department: education@sweetadelines.com