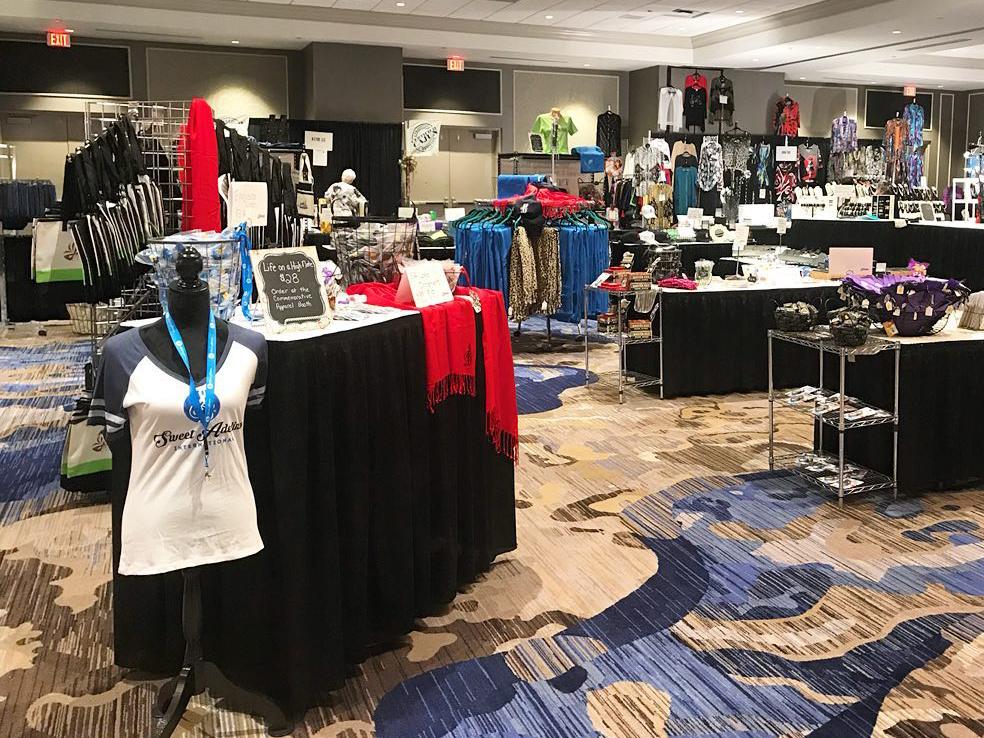 Welcome to Harmony Boutique Boulevard!
Want to bring home a little something from the Sweet Adelines International Convention & Competition? In between competitions, rehearsals, and reunions, visit Harmony Boutique Boulevard to shop a curated selection of barbershop merchandise from independent vendors as well as Sweet Adelines International Sales. Harmony Boutique Boulevard is a pared-down, updated version of former convention shopping experiences. (Full-scale shopping will return in 2023!)
New in 2022! Enjoy safe and simplified cashless payment only.
Enjoy safe and easy cashless payment in an environment created with care, especially for you.
Credit cards accepted only.
Same building, same floor, as the Competition Arena
Located just outside the competition arena doors, find us in the North Building on the 3rd Floor Foyer.
Harmony Boutique Hours
All times are subject to change.
Monday • 2–5 p.m.
Tuesday–Thursday • 9 a.m.–6 p.m.
Friday • 9 a.m.–5 p.m.
Saturday • 9 a.m.–12 p.m.
Meet the Vendors
Sweet Adelines International Sales
Wear – or carry – your Sweet Adelines pride with you wherever you go! Find popular and new Sweet Adelines merchandise at International Sales on Harmony Boutique Boulevard in Phoenix. Convention charm, competing chorus bag, badge holders, light-up pen... all your convention favorites are back.
Gold Medal Ideas
Gold Medal Ideas offers the largest selection of music themed apparel and accessories. We work with choruses and quartets on name tags and casual costumes. Available to you all year round!
Gold Medal Ideas (Competing Chorus Apparel)
Get Fired Up for Phoenix with Competing Chorus Apparel! Sweet Adelines licensed Phoenix logo on the front with the Harmony Classic and International Competing Chorus order of appearance on the back. Available in a variety of styles and colors.
Coastal Reflections
Coastal Reflections has fashion jewelry, nickel free earrings, charms and hoops with assorted chains, pendants, watches and more.
Lady Jayne, Ltd.
Lady Jayne has Sweet Adelines crystal medal surrounds over 400 charms and hoops. Crystal medal holders. 100% nickel free and made in the USA. Swarovski crystal. Lifetime replacement. Design your own look!
Read Photography
Order your candid and posed photos from Read Photography. You can also select and order photos from Read Photography after the event. The online photo gallery will be available for viewing in October. Details to follow.
Infinite Aloe
Infinite Aloe skincare is made with 100% organic aloe vera with 30 additional ingredients from plants, minerals and extracts to soothe dry skin.
The Coronet Club
For 60 years, The Coronet Club has been dedicated to supporting our members, Sweet Adelines lnternational, Young Women ln Harmony and SA philanthropic endeavors by providing superior education and lifelong memories.
Harmony Travel
Harmony Travel LLC sends Sweet Adelines around the world to tour and perform. They sing with a Harmony Travel Chorus directed by spectacular Sweet Adeline directors or their own chorus and director. The opportunity to perform, tour, make new friends and share our world of barbershop harmony is beyond measurement!
Malva Press
This Sweet Adeline shares her journey as a member in her beautifully-narrated book. Talk about a lifetime of singing!
Questions?
Sweet Adelines International
Events Department
events@sweetadelines.com