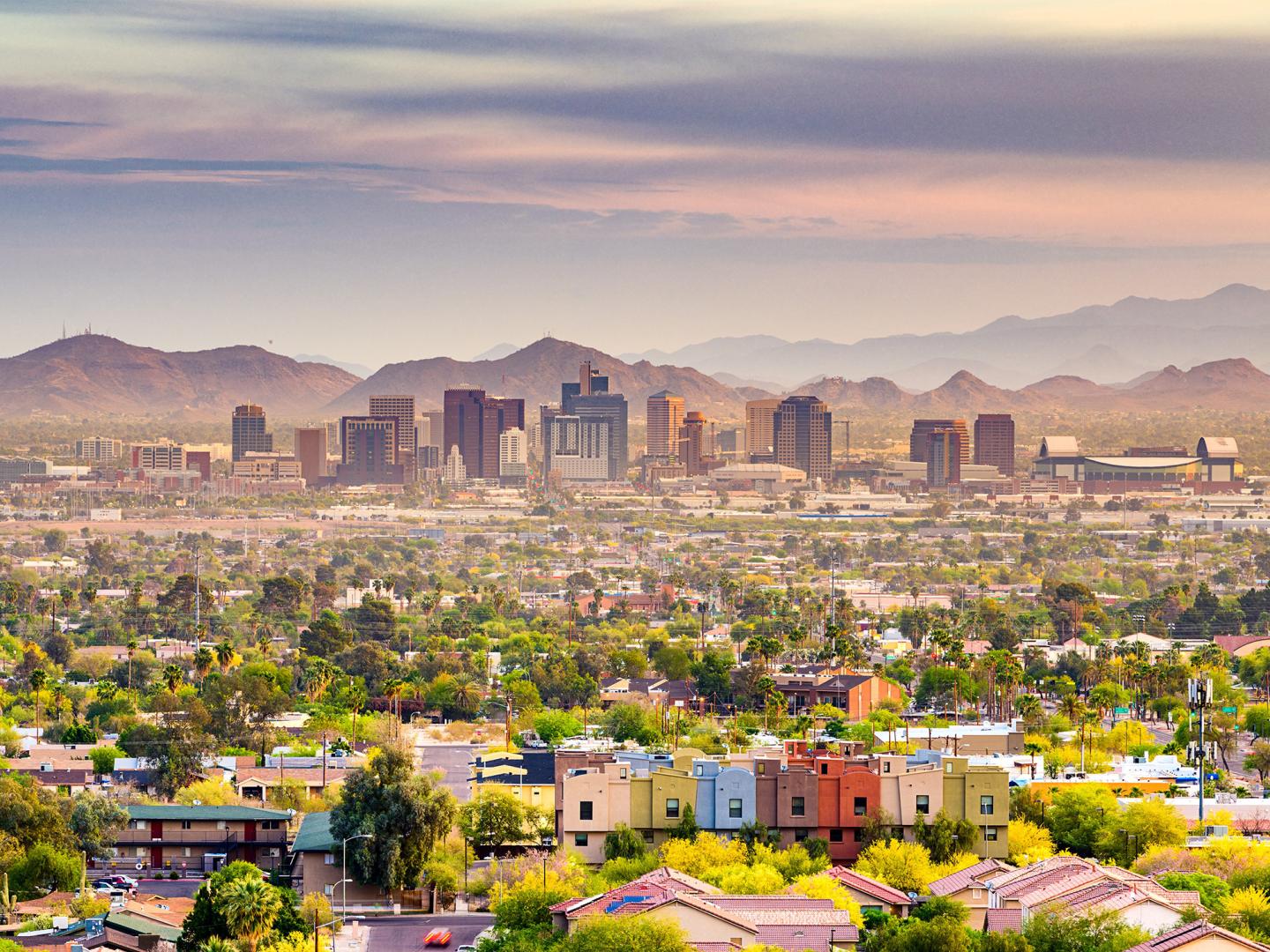 Table of Contents
General Seating
The competition will be general seating, with the exception of VIPs. This will allow room for groups to spread out based on their own comfort level. Be sure to get there early with your friends to claim your seats for the day! Seats cannot be saved overnight. Items left in the competition arena at the end of each day will be taken to Lost and Found at the HQ Desk in Exhibition Hall B. 
• Harmony Classic (Tuesday, September 13) will be general seating for all.
• VIP seating will be honored from Wednesday, September 14 (Quartet Semifinals) through Saturday, September 17 (Chorus Finals).
Tickets and name badges will not be mailed prior to the event.
• All name badges will be available for pickup at the Registration Desk located on the third floor of the Phoenix Convention Center North Building. Attendees with VIP seating will have a section/seat listed on their name badge.
• If your name badge is incorrect, corrections can be made at the Registration Desk.
Your name badge will also serve as your ticket for SA events.
• There will be no physical tickets.
Traffic Pattern Rule involving Coaches, Family and Friends
• Non-competitors are NOT allowed on the competitor buses or in the traffic pattern. This includes coaches, friends and family. Thank you for your cooperation.
Convention Program
• Attendees will receive a printed program on-site. You can also view the program online.
All competitions will take place at the Phoenix Convention Center (PCC) North Building.
• The Phoenix Convention Center is located at 100 North 3rd Street Phoenix AZ 85004.
• Covered parking at the PCC is $15 per vehicle, per day. Reserve and pay for parking prior to arrival. Use the parking map for directions.
• The PCC is completely cashless. Reverse ATMs are available to convert cash to payment cards. They are located in the North Building lobby and in the West Building Atrium.
• Complimentary WiFi is available on the first floor in the food court area. WiFi throughout the entire venue is available for purchase for $12.95/day.
• View dining options and coffee shops located at the PCC.
• The PCC has water bottle filling stations throughout the venue.
Audience Reminders
• The use of all photography, audio, video or movie recording equipment during any competition session is prohibited. Live streaming is prohibited.
• Please turn off cell phones and wristwatch alarms so they will not sound while contestants are on stage.
• Smoking, e-cigs and vaporizers are prohibited in convention and competition venues.
• Please be aware no one may enter or exit the competition seating area while contestants are on stage.
• Firearms and weapons are prohibited.
Nursing Rooms
The Phoenix Convention Center offers two 4ft x 8ft private Mamava nursing pods. The nursing pods are in the atrium of the West Building and the second level of the North Building. Guests can unlock the pods by downloading the free Mamava app or by visiting th​e Information Desk and speaking with a Guest Experience Representative. ​
Located in PCC North, Third Floor Foyer, Exhibition Hall B
| | |
| --- | --- |
| Monday, Sept. 12 | 8 a.m.–5 p.m. |
| Tuesday, Sept. 13 | 9 a.m.–6 p.m. |
| Wednesday, Sept. 14 | 9 a.m.–6 p.m. |
| Thursday, Sept. 15 | 9 a.m.–6 p.m. |
| Friday, Sept. 16 | 9 a.m.–5 p.m. |
| Saturday, Sept. 17 | 9 a.m.–3 p.m. |
Registration/"Will Call"
• All-Event Registrations and Single-Event Registrations will be available for purchase.               
• Individual and Group registrations purchased prior to the event will be available for pick-up.
HQ Desk
• Colored lanyards will be available at the HQ desk to show attendee comfort level in terms of contact with others.
Green = Okay with direct physical contact such as handshakes or hugs
Yellow = Okay with indirect physical contact such as elbow bump or air high-five
Red = Being extra vigilant and prefer NO direct contact, NO exceptions
• Any items found in the competition arena will be moved to the lost and found at the HQ Desk located right next to Registration/"Will Call."
Health and Safety Desk
• ShareMy.Health will be on-site to answer questions and help attendees upload required documentation.
• Attendees that do not upload the required verification documents to ShareMy.Health prior to the event must provide verification at the Health and Safety Desk.
• Attendees who did upload their information prior to arriving can visit the Health and Safety Desk to get a sticker to add to their name badge by showing their cleared health passport. The sticker will allow quick entry into events as ushers will be monitoring entrances for badge and verification compliance.
• Attendees can also show their cleared health passport on their mobile device from ShareMy.Health.
You must upload your verification documents to ShareMy.Health to gain access to the event. You Must Upload:
• Full vaccination status, showing the final dose received on or before August 22 OR
• Proof of a negative COVID-19 test result within 72 hours of Sunday, September 11 or at the time of your arrival.

COVID-19 Testing will be available.
• Individuals may purchase a test for $45 USD. Receive results within 15 minutes.
"Stay Well" Policy
Sweet Adelines International has adopted a "Stay Well" policy for this year's convention and competition, which includes the stipulation that if you feel sick or are experiencing COVID-like symptoms prior to traveling or while onsite in Phoenix, you will reconsider your participation at the event in an effort to keep our singers, family, and friends as safe as possible.
Shop, Shop, Shop...at Harmony Boutique Boulevard!
• Harmony Boutique Boulevard is a pared-down, updated version of former convention shopping experiences. (Full-scale shopping will return in 2023!)
• Located at the PCC, North Building, 3rd Floor Foyer
• Enjoy safe and easy cashless payment (credit cards only!) in an environment created with care, especially for you.
• Find hours of operation and shops on the boulevard.
International Education is Back!
• Class sessions are included in your event registration.
• All classes will take place in the PCC North Building.
• CEUs will be offered for class sessions and competition sessions.
• Find classes, meet the instructors and view the schedule.
Watch Tuesday through Saturday for only $25 USD!
• Watch and purchase the LIVE webcast at: www.sweetadswebcast.com.
• View Schedule, Anchors and Correspondents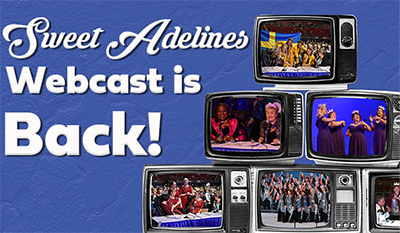 For help with an existing reservation, please contact the hotels directly.
Sheraton Phoenix Downtown • 340 North 3rd Street, Phoenix, AZ, 85004 • 1-602-262-2500
Check-in: 4 p.m.
Check-out: 11 a.m.
Valet Parking: $36 per vehicle, per day
Self-Parking: $13 per vehicle, per day
Renaissance Phoenix Hotel Downtown • 100 North 1st Street, Phoenix, AZ., 85004 • 1-602-333-0000
Check-in: 4 p.m.
Check-out: 11 a.m.
Valet Parking: $35 per vehicle, per day
Hyatt Regency Phoenix • 122 North 2nd Street, Phoenix, AZ., 85004 • 1-602-252-1234
Check-in: 4 p.m.
Check-out: 11 a.m.
Valet Parking: $39 per vehicle, per day
Self-Parking: $21.75 per vehicle, per day           
Hilton Garden Inn Downtown • 15 East Monroe Street, Phoenix, AZ., 85004
(0.3 miles from Phoenix Convention Center)
All meters and pay stations are enforced 8 a.m.–10 p.m. daily, including weekends and holidays.
• Meters: $1.50 per hour
• Coin Only Meters: $1.00 per hour
• To pay by phone for on street parking meters and stations throughout the city, use the Parkmobile app.
Contact Donna or Robin at Journey House Travel for assistance.
• donnap@journeyhouse.com
• robin@journeyhouse.com
Phoenix Sky Harbor International Airport • 3400 East Sky Harbor Boulevard,  Phoenix, AZ 85034
• Sky Harbor Airport (PHX) is 3.8 Miles from Sheraton Phoenix Downtown, and approx. 11 minutes driving time from all SA Convention Hotels.
Taxicab booths are located at the following:
• Terminal 3: North curb outside door # 7
• Terminal 4: Level 1, North Curb outside door # 7 
• Terminal 4: South Curb outside door # 6
• Taxi rides costs are the same regardless of company. Cost for the first five miles is $15, every mile after that is $2.30. Wheelchair accessible taxis are available upon request. Taxis are required to accept credit card payments and all major credit cards are accepted.
Terminal pick up locations for ride share service providers are as follows:
• Terminal 3: South outer curb, West end between doors # 2 and # 4
• Terminal 4: Level 1, North outer curb, far West end outside door # 1
• Terminal 4: Level 1, South outer curb, east end outside door # 6 or # 8
• Ride share services are available 24 hours a day, seven days a week.
Please note that it is best to arrange the ride after collecting all bags and ready to exit the terminal.
Scooter Rentals
• Rent a scooter from Scootaround and have it delivered to your hotel.
Time Zone: Phoenix, Arizona observes Mountain Time (MST). Use a time zone converter so you don't miss any performances.
Weather: In September, Phoenix temperatures are between 100–110°F (37.8–43.3°C) during the day, and 75–80°F (23.89–26.67°C) at night.
• View a ten-day weather forecast.
Packing List:
• Layers of clothing for fluctuating temperatures (inside the arena and outside)
• Refillable water bottle
• Walking shoes
• Sun Screen and lip balm
• Moisturizer (Phoenix has a dry heat) and eye drops
• A Wide-Brimmed Hat and Sunglasses
Safety Tips:
• Walk with confidence
• Do not walk alone, especially at night.
• Take a taxi, Uber, or Lyft instead of walking down unfamiliar streets.
• Be alert and aware of your surroundings. Plan your route before you leave.
• Remove your name badge when leaving the hotel or the Phoenix Convention Center
• Consider keeping your cash separate from your credit cards and ID.
• Leave all unnecessary credit cards at home.
• Never leave your purse or valuables unattended.
• Always lock cash, checks, credit cards, jewelry, electronics and other valuables in the hotel safe.
Explore favorite attractions, restaurants...and sign up for discounts!
• We've picked out some favorites we think will spark your interests.
• Sign up to download special offers straight to your phone, like special deals from Phoenix businesses and attractions.
• Many deals are within walking distance of the Phoenix Convention Center — see what's included!