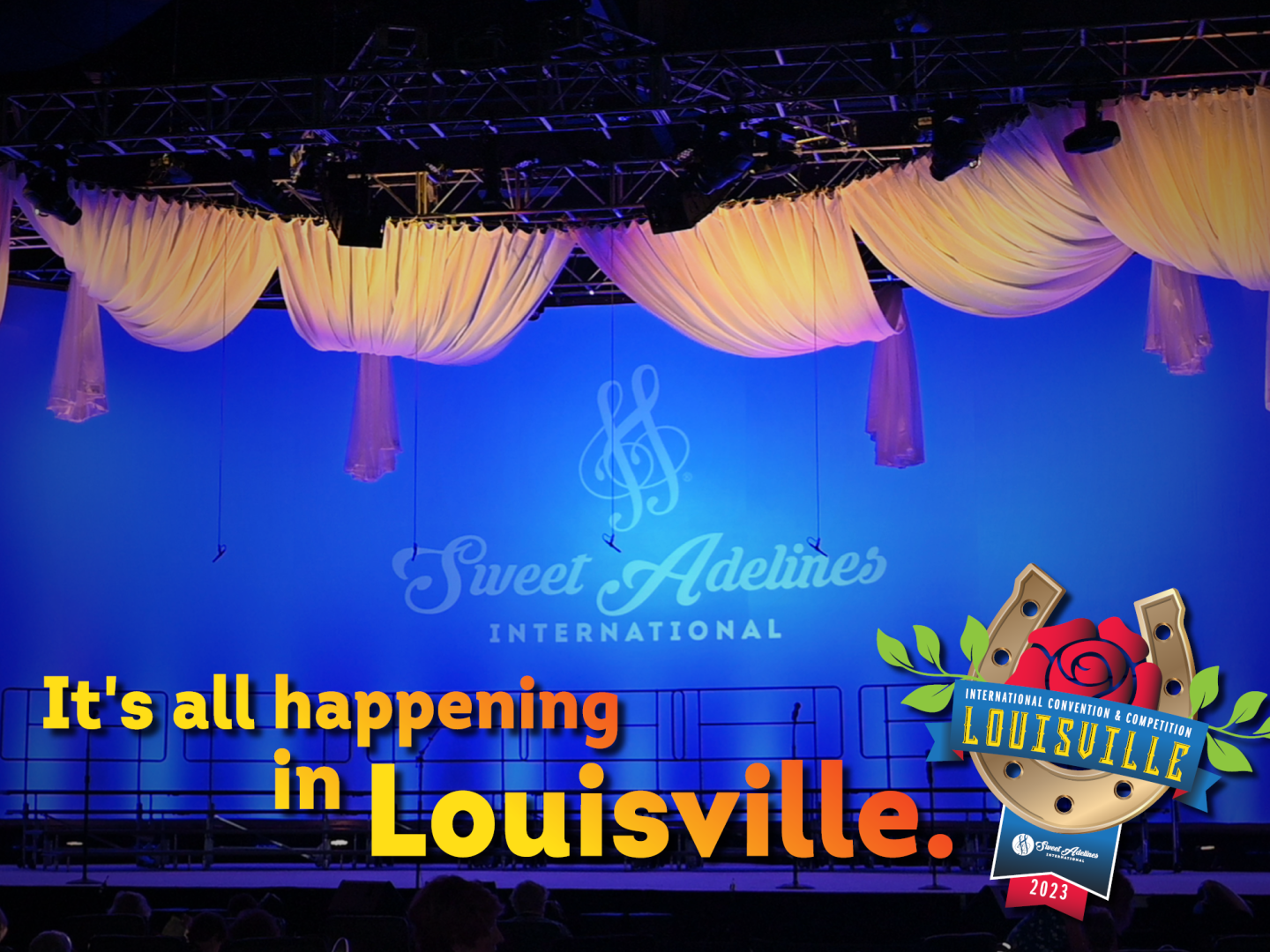 Shop the Harmony Bazaar in Louisville!
You'll find a wide selection of merchandise, jewelry and more from independent vendors as well as Sweet Adelines International Sales.
Pick up gifts for new chorus members, matching souvenirs for your quartet or a little something for yourself!
Enjoy easy cashless payments in an environment created with care, especially for you. Credit cards accepted only.
Meet our Vendors...
Read Photography
Order candid and posed competition photos from Read Photography! Not only are the photos beautiful, but Read Photography is an outstanding partner and supporter of the mission and vision of this worldwide association of singers. You can order photos at the Harmony Bazaar and also after the event via the Read Photography website, www.readphotography.com. Sweet Adelines International is pleased to have an exclusive photography contract with Read Photography.
Gold Medal Ideas
Gold Medal Ideas offers the largest selection of music themed apparel and accessories. We work with choruses and quartets on name tags and casual costumes. Available to you all year round! www.goldmedalideas.com
Gold Medal Ideas (Competition Apparel)
Gold Medal Ideas will have a separate booth with exclusively licensed Sweet Adelines Convention Apparel. For the first time, we will have Chorus Order of Appearance apparel "backs" AND Quartet Order of Appearance "backs!" With the variety of apparel styles (t-shirts, hoodies, etc.) and beautiful colors — purchase multiple styles to remember competition wear-ever you go! You can also pre-order (and customize with chorus roster "backs") via the Gold Medal Ideas website until October 8: sa.goldmedalideas.com
Lady Jayne, Ltd.
Lady Jane's Sweet Adelines crystal medal surrounds over 400 charms and hoops! Crystal medal holders are 100% nickel free and made in the USA. Swarovski crystal. Lifetime replacement. Design your own look with Lady Jayne! www.ladyjayne.com
Beads N More
Beads-n-More is a locally owned and operated beading and jewelry shop in Chatham, Illinois. We offer a large selection of beading supplies and an eccentric mix of beads. Our selection includes, but is not limited to, Swarvoski crystals in a large selection of colors, sterling silver, gold filled, plated metals, semi-precious stones and a multitude of fun glass beads. www.beadsnmoreil.com
ChoralOrg.com
From quartets to choruses, ChoralOrg streamlines ensemble management as an add-on to your existing WordPress site or a full-featured standalone website. With ChoralOrg, it's time to get back to music. www.choralorg.com
Color Street
Color Street is a beauty brand built on innovation. We revolutionized how people do their nails with 100% real nail polish strips that take the hassle, dry time, and mess out of manicures. Each strip is formulated with a base, color, and top coat for a salon-quality manicure in minutes. See Facebook Page!
D's Purses & Accessories
Purses, Jewelry & Accessories
Harmony Travel, LLC
Harmony Travel LLC sends Sweet Adelines around the world to tour and perform. The opportunity to perform, tour, make new friends and share our world of barbershop harmony is beyond measure! www.harmony-travel.net
Heartland Market
Clothing that transitions beautifully from performance to street wear. It is affordable and perfect for any event on your calendar…only limited by your imagination. Bling never goes out of style!
Linda's Place
Where you can look like a million...for less than the price of lunch!
Mary's Magnetic Magic
Providing #1 customer service and providing the best products on the market to look beautiful but most important of all - Keeping you Healthy with Quality Products as Pure Copper, Magnetic and Balance Bracelets. See Facebook Page!
My Sister Sings
The company was inspired by my sister, a member of Sweet Adelines International, who asked me to sew a garment bag for one of her stage outfits. That led to my participation as a vendor at a regional competition and My Sister Sings was born! Handmade luggage tags, pillow cases, checkbook covers, decorative pillows, Christmas stockings, fabric pumpkins, tote bags, zippered cosmetic and travel bags, garment bags, shoes bags, necklaces and earrings. Made with cotton, linen and wool fabrics sourced in the United States when possible.
Noka Posh, LLC
Noka Posh provides custom designed costumes for any size chorus. Founder Tatjana is an internationally published Fashion and Costume Designer who designs pieces to perfectly suit the theme and performance, while working within your budget. Company focuses on customers enjoying a glamorous experience, while creating their complete and polished look. www.nokaposh.com
Ultimate Creations/Infinite Aloe
"InfiniteAloe is natural, simple, skin care that uses quality ingredients and 100% organic aloe vera to create effective lightweight formulas that keep your skin hydrated, soft, and healthy." www.infinitealoe.com
Unique Fashions
Bling shirts, t-shirts, jackets, hats, handbags & accessories.
Turnerville HipKlips
HipKlip is a patented clip that attaches to keys or our pocket accessory. The pocket is a mini purse/wallet with cell phone access. It comes in a variety of styles, colors, sizes and fabrics, including 'genuine leather'. It fastens to your pants, shorts, pockets, skirt, etc., keeping your items accessible and secure. www.store.hipklips.com