Arranger Certification Program
The Arranger Certification Program (ACP) is an educational program designed to provide additional training and further develop skills for Sweet Adelines International potential arrangers, as well as directors, quartet members and musical leaders who would like a better understanding of how to analyze and arrange music in the barbershop style. The program is broken into three skill levels: Beginner, Intermediate and Advanced. It provides opportunities to develop and validate the skills and knowledge required to evaluate and create arrangements for barbershop singers.
For more information, read "What Is The ACP?" by Kay Bromert, The Pitch Pipe July 2020
There are two options for aspiring arrangers in our Arranging Certification Program:
General ACP Program*
Advanced ACP Scholarship Program**
Cost of Program: $100
Application Fee: $100
Materials: $25
Scholarship Award: $1,500
Length of Program: Self-paced; no expiration
Length of Program: Up to 2 years
Eligibility Requirements: Sweet Adelines members or nonmember directors only.
Eligibility Requirements: Sweet Adelines members only

*Additional details below

**Additional details below

All prices listed in USD.
General ACP Program
ACP APPLICATION
ACP Application (available in the "Certifications" section on Forms and Documents Center)
GOALS
To support and supplement regional programs of arranger education while making arranging education available to all members in all regions.
To prepare members interested in barbershop arranging for arranging assignments and strengthen the pool of advanced arranging candidates.
To promote a better understanding of barbershop for all members, particularly those who need to choose music for competition purposes.
This might include directors, quartet members, music team members and anyone who would like a better understanding of how barbershop is constructed and what makes it strong.
To provide recognition to validate the skills of those who meet the requirements of the program at each level.
ARRANGER CLASSIFICATIONS
| | |
| --- | --- |
| Classification | Description |
| Candidate | A participant at any level of the ACP (Beginner, Intermediate, Advanced) |
| Approved Music Arranger (AMA) | A Candidate who has successfully completed both the Beginner and Intermediate levels of the ACP. |
| Certified Music Arranger (CMA) | An arranger who has completed participation in the Advanced Level of the ACP and successfully applied for the title of CMA by submitting three barbershop arrangements for evaluation to the SA ACP Coordinators. |
| Master Music Arranger (MMA) | An arranger who has completed all levels of the program. This title recognizes leadership qualities in the field of SA barbershop arranging. |




ACP ADVANCEMENT LEVELS
Level
Description
Beginner
This level consists of self-study with testing based on the current SA Arranger's Guide and supplemental materials to be provided by the program. The format of the ACP Beginner Level program closely mirrors the format of the Director Certification Program (DCP) with testing conducted in-Region. Beginners will register with HQ, pay a registration fee, conduct self-study on nine study modules and begin taking exams at their own pace. Participants who successfully complete the Beginner level will receive a Certificate of Completion.
Intermediate
This level will consist of small group (cohort) study with facilitation, using online meeting technology. It will be a practical module with arrangement analysis assignments and hands-on arranging of one or more common vehicles. The Intermediate level will be managed by the ACP using Certified Music Arrangers (CMA) and Master Music Arrangers (MMA) as faculty. Registration will be required. Completion of beginner fundamentals is a prerequisite, but a "challenge" has been designed for those wishing to bypass the beginner level. Participants who successfully complete the Intermediate level will earn the title of Approved Arranger.
Advanced
The format of the ACP Advanced Level program closely mirrors the format of the former IMAP program. ACP Scholarship funding will be provided by SA for a period of up to two years to qualified individuals. Individual mentoring will be provided by a CMA or MMA. Candidates will have the opportunity to apply for advancement to CMA status upon successful completion of their scholarship.
This ACP Guide is concerned with the Beginner Level of the program exclusively. For further information about the Intermediate or Advanced levels of the program, please contact SA headquarters.
ACP Scholarship Program
The ACP Scholarship Program provides a $1,500 USD award along with up to 2 years of one-on-one training for a maximum of five individuals who are Sweet Adelines members. The goal is to select individuals with known arranging skills and develop their potential for the creation of barbershop-style music for member use in contests and performances. Each candidate is paired with a Sweet Adelines International Master Music Arranger (MMA) or Certified Music Arranger (CMA) as a mentor. Those individuals chosen to receive a scholarship are expected to advance to the Certified level by the end of their second year of training.
Applicants are recommended by Education Coordinators and Master or Certified Arrangers. Applicants can also complete an application without any recommendation. Vital to the success of this program is a high degree of personal commitment. Only individuals interested in committing their efforts to this course of study should be recommended.
Those interested in the program should submit an ACP Scholarship Application, along with three of their best arrangements for consideration.
Once the candidates are chosen, a mentor is assigned to each based on mutual agreement. The training year begins on May 1. Expenses for training in excess of the $1,500 stipend is the responsibility of the candidate.
ACP SCHOLARSHIP APPLICATION
ACP Scholarship Application (Fillable PDF)
Save the PDF to your device prior to completing the application.
Your answers will not be saved unless the file is saved to your device.
ACP SCHOLARSHIP PROGRAM ADVANCEMENT LEVELS
Level
Description
Level 1: Candidate
Those accepted as scholarship recipients.
Level 2: Certified Music Arranger (CMA)
Current CMAs and candidates who successfully complete the requirements for advancement to CMA defined in the applicant level.
Level 3: Master Music Arranger (MMA)
Recognizes and honors lifetime achievement in arranging.

To apply to become an MMA, complete the MMA Application.

Download the ACP Advanced Level Definitions.
RESOURCES
The Arranger's Guide is highly-recommended for arrangers and aspiring arrangers:
Arranger's Guide
Member Price $25 USD
Non-Member Price $35 USD
Purchase online or contact our International Sales Department at sales@sweetadelines.com.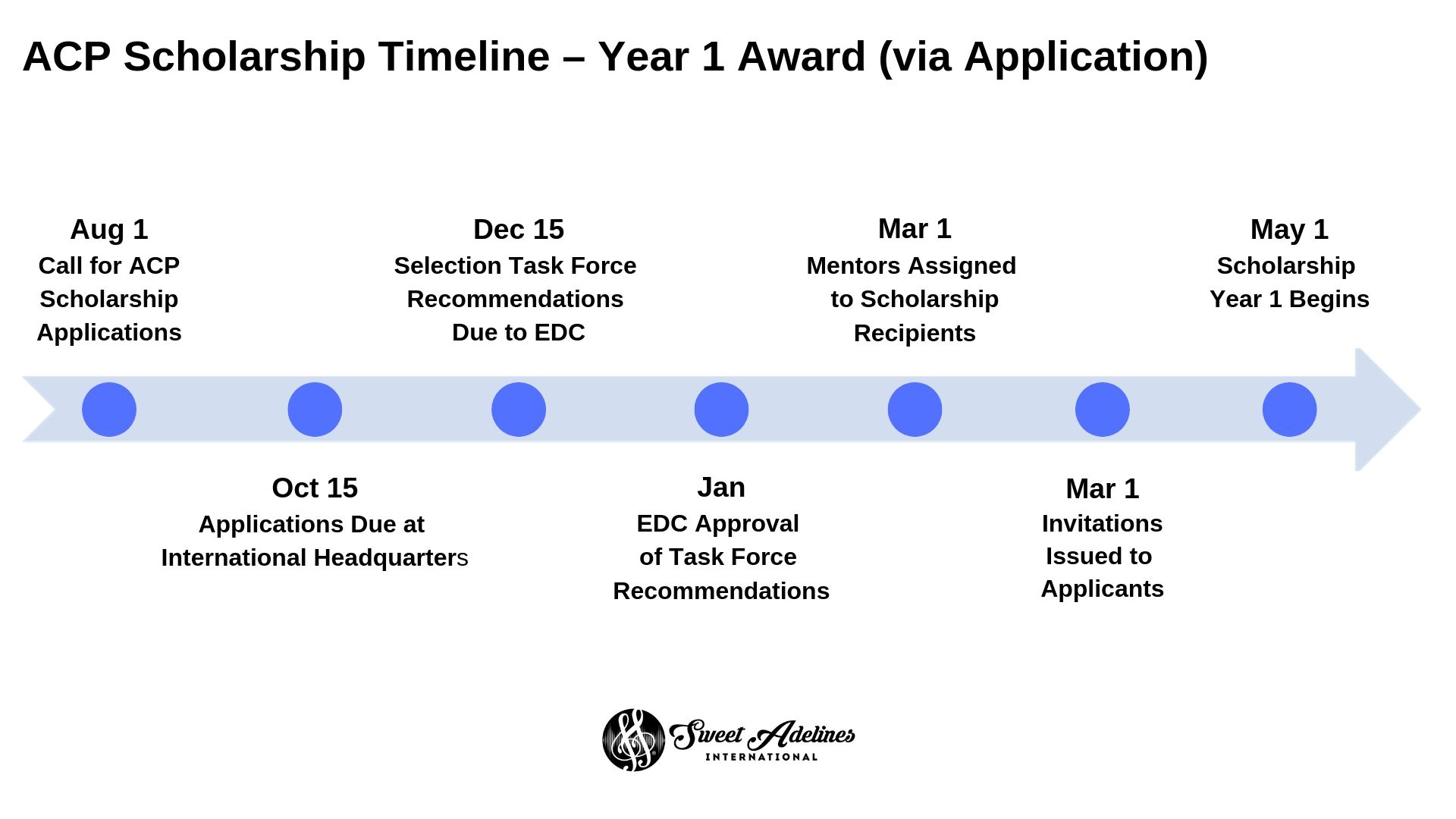 Questions?
If you have any questions regarding the ACP, or are interested in applying to the program or for a scholarship, please contact Sweet Adelines International's Education Department at education@sweetadelines.com.