Barbershop 101
Learn more about the complex and rewarding genre of four-part barbershop harmony, a tradition Sweet Adelines has helped preserved for over 70 years!
Young Women In Harmony
Young Women In Harmony (YWIH) offers life-changing opportunities to youth and provides music educators with resources to include barbershop harmony in school music programs.
Music Educator Awards
The Sweet Adelines International Music Educator Awards are presented each year to outstanding music educators who have achieved excellence in their field and made exceptional contributions to promoting the barbershop style in schools.
Certification Programs
We offer several certification programs that members may take part in as they pursue programs that enrich their lives, as well as our organization. Click to see the different certification programs offered.
Sweet Adelines Education Portal
Welcome to the public Sweet Adelines Education Portal! Here you'll find a variety of helpful resources, learning tracks and instructional videos relating to voice, music and virtual rehearsals.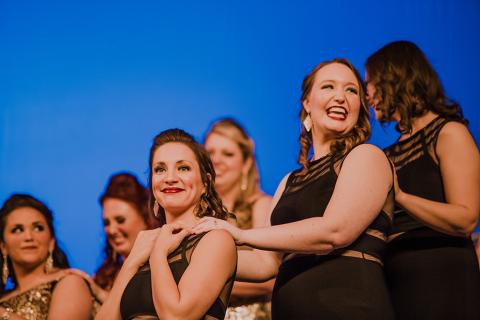 Grants & Scholarships
Thanks to the generous donations of our members and community support, Sweet Adelines International has awarded more than $1.1 million to preserve the barbershop art form.