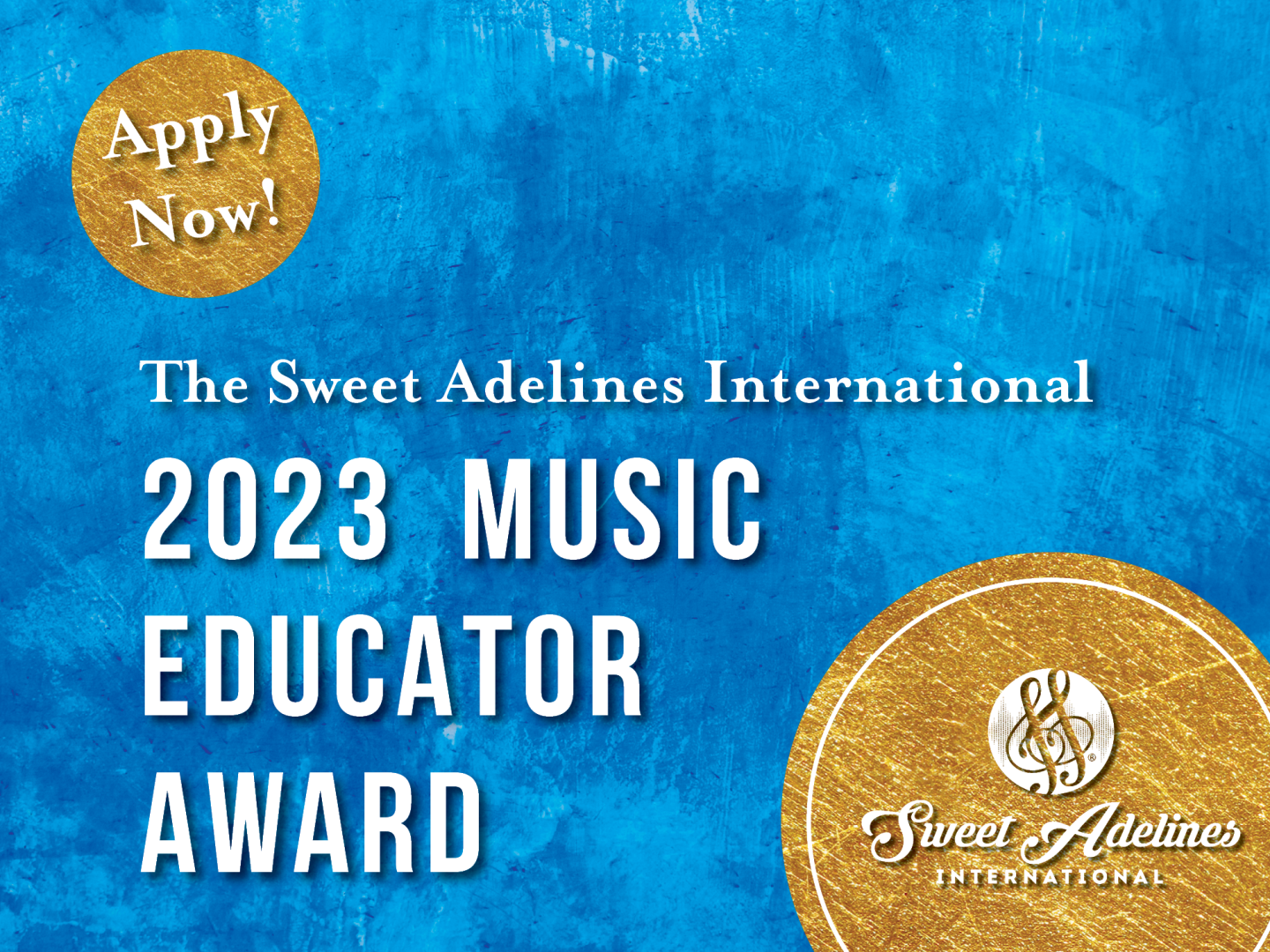 Sweet Adelines International Music Educator Award
The new Sweet Adelines International Music Educator Award was created specially for Sweet Adelines, by Sweet Adelines!
Sweet Adelines celebrates the achievements of music educators who have embodied our Guiding Principles of musical excellence, culture of belonging, diversity & inclusion, personal empowerment and leadership, and outreach by using their expertise to promote barbershop-style singing in their schools.
The new Sweet Adelines Music Educator Award award does not require membership in any other music organization and Sweet Adelines members can self-nominate.
In September 2022, the International Board of Directors approved the Sweet Adelines International Music Educator Award to replace former educator awards. The first Sweet Adelines Music Award will be presented at the 2023 International Convention & Competition in Louisville, Kentucky (USA).
Applications are currently being accepted!
Nominations must include the application form, one reference letter, and a recent photograph.
Send all materials to to the Education Department at Sweet Adelines International Headquarters by May 8, 2023.
Past Sweet Adelines International Music Educator Award Recipients
In the past, Sweet Adelines International has partnered with professional music educator associations to present the associations' awards to Sweet Adelines members during International Convention. Since 1992, over thirty Sweet Adelines have been recognized. To be eligible for nominations to receive these awards, nominees were required to belong to one of the partner associations.
National Association for Music Education (NAfME) Award Recipients:
2022 Sarah Clay Lindvall
2011 Natalie Allen
2000 Janice Kueppers
2021 Sarah Shapiro
2010 Anne Kotchman
1999 Jan Meyer
2020 Melody Hine
2009 Karen Wysocky
1998 Beth Bruce
2019 Susan Ives
2008 Jennifer E. Edwards
1997 Debbie Connelly
2018 Jane Brown
2007 Sheila Koplitz
1996 Dede Nibler
2017 Annette Lambrecht
2006 Lauren Altiere
1995 Sarah Boeka
2016 Jana Gutenson
2005 Kim Wonders
1994 Lorraine Barrows
2015 Amanda Sky Harris
2004 Carol Grimmer
1993 Sharon Vitkovsky
2014 Patricia Danner
2003 Melody Horgan
1992 Lindi Bortney
2013 Debbie Baker
2002 Judie Sharp
 
2012 Lori Lyford
2001 Estelle Glarborg
 
EMEA Award Recipients:
2001 Alyson Alan and Glen Chaney
CMEA Award Recipient:
2016 Patti Thorpe
Questions?
Sweet Adelines International
Education Department
education@sweetadelines.com