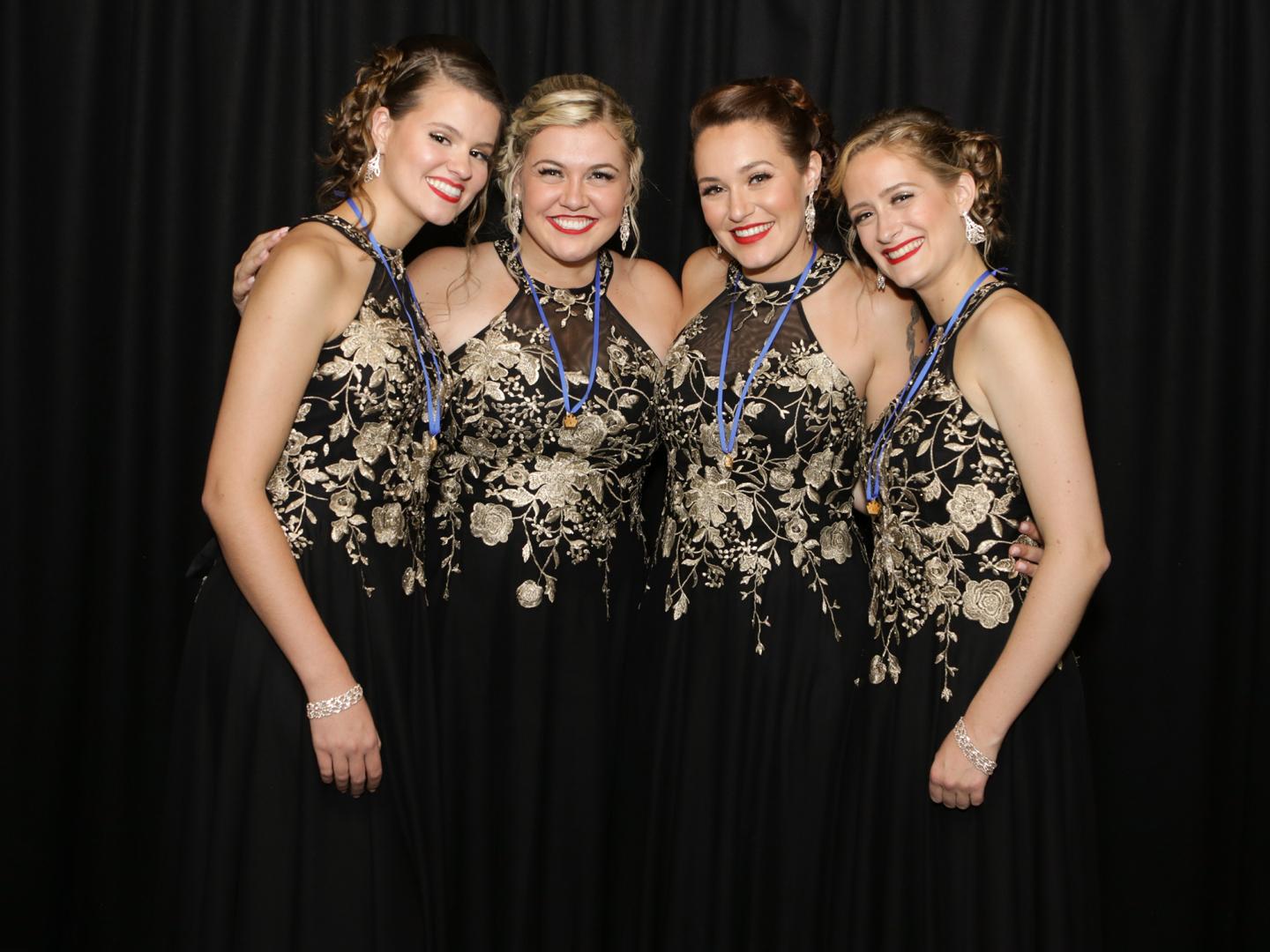 Rising Star Quartet Contest
Trinity University, San Antonio, Texas, USA
Friday, July 22, 2022 at 7:30 p.m. during Sweet Adelines International Education Symposium (IES).
Quartet Entry Fee: $100 USD
Contest Entry is Now Closed
Entry for the 2022 Rising Star Quartet Contest opens on March 15, and the last day to enter the contest is June 1. (Entries received after the deadline will be placed on a waiting list.)
Rising Star competitors are encouraged to register for IES, which includes the Quartet Track and Young Singers Track.
IES Participation Discount: If two (2) or more members of the quartet are registered for IES 2022, $50 USD of the competition fee is waived and will be refunded once IES registration is verified by Sweet Adelines International Headquarters.
How to Enter Rising Star
To enter the 2022 Rising Star Quartet Contest, complete the forms below:
Competitor entries will be accepted in the order they are received until all 15 competitor slots are filled. Any entry forms received after all slots are filled will be placed on a wait list. Drawing for the order of appearance will be held once the 15 competitor slots are filled or July 1, 2022, whichever comes first.
Who Is Eligible to Compete?
All singers must be 25 years of age or younger on July 22, 2022.
Quartets with an average member age of 16 or younger will also be eligible for the Stars to Watch Award.
Song Selection
Competitors in the Rising Star Quartet Contest shall prepare and perform two songs or medleys arranged in the barbershop style and appropriate for use in a Sweet Adelines competition.  
In accordance with our guiding principles on the Culture of Belonging and Diversity & Inclusion (D&I), Sweet Adelines International rejects any song with racist lyrics, messages or history, and we consider them unacceptable for performance in any setting. Therefore, please note that all songs performed must be assessed, and receive an "Admissible" rating through the Sweet Adelines International Song Assessment Tool prior to their performance. To verify that your song is admissible, consult the Song Evaluation Database. For more information, please watch this video from Rising Star Quartet Champion Melody Hine (Hot Pursuit 2018).
Shining Bright Since 2013
Founded in 2013, the Rising Star Quartet Contest is open to women ages 25 and younger. Singers don't need to be members of Sweet Adelines International to compete.
Some great quartet singers got their competitive start at the Rising Star Quartet Contest. For example, Rising Star champion quartets LoveNotes (2005, as UnderAge) and ClassRing (2014) went on to become Sweet Adelines International champion quartets (2014 and 2019, respectively). Hot Pursuit (2018) went on to become Harmony, Inc. 2019 Quartet Champions. But Rising Star isn't only about winning. It's about the joy of singing barbershop with other young singers, the thrill of performing on stage, and most of all, the friendships and memories.
Past Rising Star Quartet Contest Results & Performances
2019 Rising Star Quartet Contest
Results:
First Place: Duly Noted
Second Place: Perfect Fourth
Third Place: Valkyries
Performances:
View additional Historical Results and/or watch the 2018 Rising Star Quartet Contest on Sweet Adelines YouTube Channel.
Contest Questions?