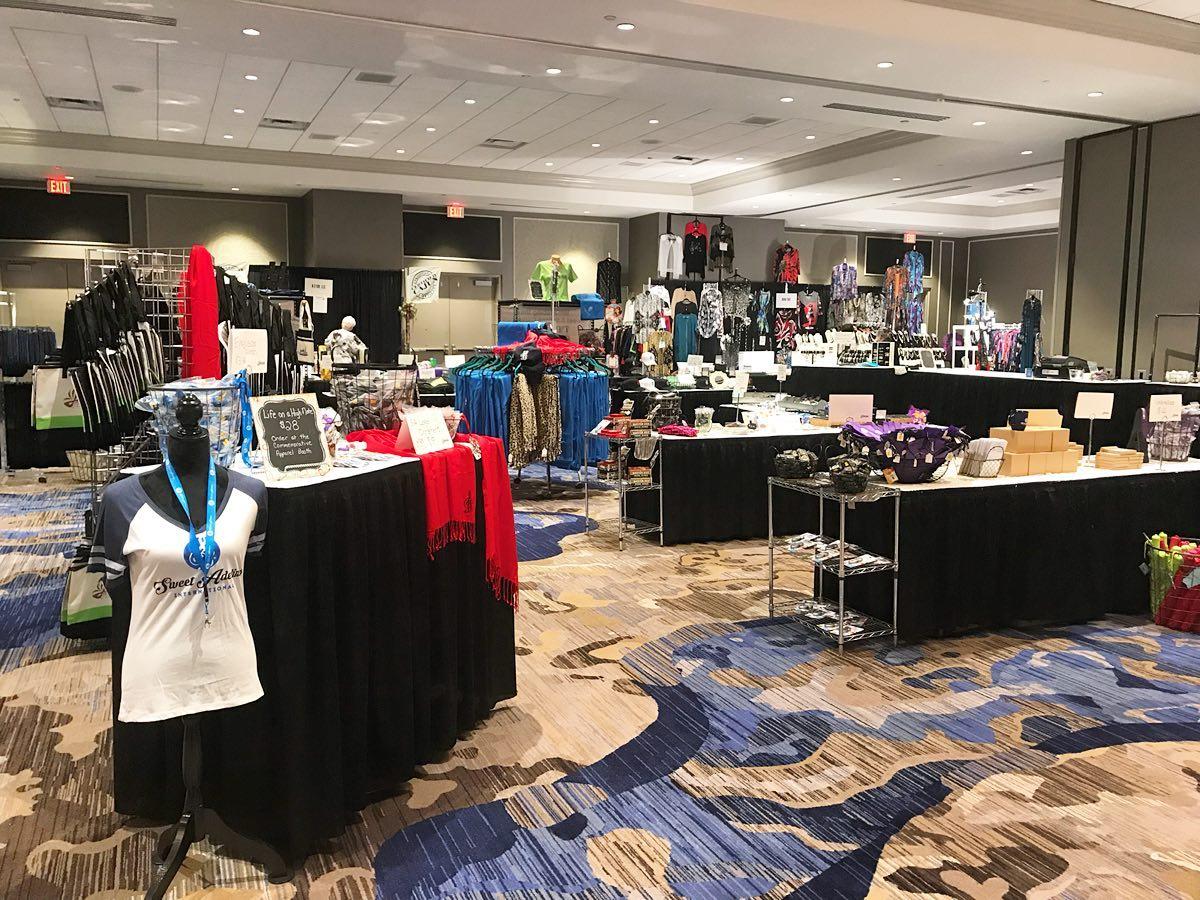 Welcome to Sweet Adelines International Sales!
It's like you're shopping with us at Harmony Bazaar during International Convention — only we're open 24/7.
Use the button below to be redirected to the International Sales product area where you can find and purchase sheet music, novelty items (with the trademarked Sweet Adelines Intl. name and logo), commemorative jewelry (longevity pins, contest medals...), educational CDs (like Sing, Baby, Sing!) and more...

International Sales Frequently Asked Questions
Do I have to be a member to order from International Sales?
You do not need to be a member of Sweet Adelines International to order from International Sales, however we do offer discounted prices to our members on many items. Some arranged music titles are available to members only.
When will my order be shipped?
All orders received on weekdays will be processed and shipped within 24 hours. Please allow one to two weeks for delivery of your order. If you need express delivery, give us a call and we can let you know what the charges will be. Current UPS rates will apply. If you do require express delivery, you must provide a street address for delivery, as express shipments cannot be sent to post office boxes.
What are your standard shipping charges?
Orders are shipped first-class mail or UPS ground. All prices listed in USD. Our standard shipping rates are listed below:
Standard Shipping/Handling Charges – Applied to all domestic orders (excluding electronic download music orders)
$0.01 - $30 = $6.50
$30.01 - $50 = $8.50
$50.01 - $75 = $10.50
$75.01 - $100 = $12.00
$100.01 - $150 = $14.00
$150.01 - $200 = $16.00
$200.01 - $300 = $18.00
$300.01 and over = $20.00
Express Shipping (within the U.S.)
Orders requiring Overnight, 2nd Day, three-day shipping must be received before 1 p.m. CST for same day processing. Orders received after 1 p.m. CST will be process the next business day. Orders received on Friday requiring overnight shipping will deliver on Monday. Express shipping costs are standard shipping/handling fees (above), plus additional rush fees listed below.

Overnight = $30
2nd Day = $25
3 Day = $20
Express shipping is sent via UPS or FedEx and cannot be delivered to a P.O. Box therefore, you must provide a street address.
International orders (outside the U.S.)
All international orders are shipped standard USPS mail.  Please expect delivery time of two to three weeks. Express shipping, Overnight, 2nd day, 3rd day and standard service is available for actual shipping costs which will be billed separately.  
What is the difference between Published Music and Arranged Music?
Published music is available to both our members and to the general public. All published music is available for instant download upon purchase. Simply choose "electronic delivery" during checkout, and the music will be made available to you. Some arranged music titles are available only to members of Sweet Adelines International. Our arranged music catalog consists of songs for which copyright clearance has been granted, as well as arrangements of songs in the public domain or original compositions. Non-members may purchase public domain and original compositions arrangements, as well as certain titles that are available to non-members, which are indicated in the music catalog.
Do you offer preview copies of published and arranged music?
Yes, and we strongly recommended that you preview music titles before purchasing as copies of published and and/or arranged music may not be returned. Please review the step-by-step instructions to access music preview copies in the new Sweet Adelines membership database, Impexium. Many songs have electronic preview copies available on the sales website. If no electronic preview copy is shown, you may request a preview copy be emailed to you. Preview copies are sent free of charge.
Where can I find a complete listing of Sweet Adelines International's published and/or arranged music list(s)?
Can you tell me if a particular song is suitable for competition?
Songs which are holiday songs, religious, patriotic, in a language other than English, or are among Sweet Adelines' official songs are prohibited from competition. Performance of these songs will result in a penalty. If a song is not specifically prohibited, it may or may not be suitable for contest. For an explanation of the suitability of a song and arrangement for competition, refer to the Music Category section of the Judging Category Description Book, Sec. II-B, page 2, "Merit as Barbershop Competition Material." The standards for competition suitability include acceptable form, melody and lyrics, as well as harmonization that use a majority of major triad, dominant seventh, and dominant ninth chords with appropriate voicing and voice leading. Patter and solo passages should be limited to one or two measures.
What forms of payment do you accept?
We accept Visa, MasterCard, American Express and Discover.
How can I find music voiced for young women's voices?
In our published sheet music catalog, we have almost 200 charts voiced for young women. When shopping, simply type "YW" without the quotation marks in the search box and click search. You'll have many options to review in the search results.
Do you accept returns?
All merchandise ordered online (with the exception of arranged music and individual copies of published sheet music) may be returned or exchanged within 30 days of purchase. Please remember to include invoice numbers for all returned merchandise. All merchandise must arrive in saleable condition to receive refund or exchange.
Is my credit card information safe on this website?
Sweet Adelines International uses the latest SSL encryption technology to make sure your transaction is secure and protected. We protect your personal and credit card information and do not sell or rent your email address to anyone.
What if I have a question that isn't answered here?
Please get in touch with us! Email us here: sales@sweetadelines.com or call 1-877-545-5441 toll free inside the U.S./Canada or 1-918-622-1444 ext. 112 from outside the U.S./Canada.