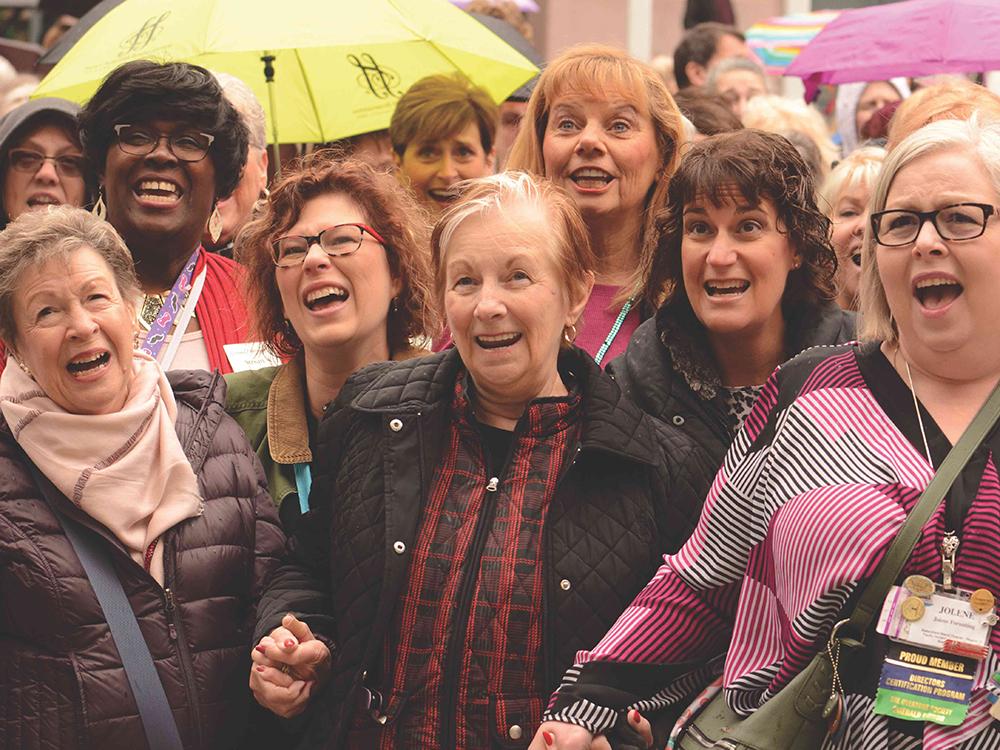 Past International Presidents
Serving as Sweet Adelines International President requires dedication, vision, and lots of energy! Learn about the leaders who have taken on this important role throughout the years.
History Panels
History panels chronicling each of Sweet Adelines 75 years line the halls at Sweet Adelines International Headquarters in Tulsa, Oklahoma (USA).
Crowns
Since 1951, Sweet Adelines International Champion Quartets have been presented with crowns to recognize their achievement. The ultimate gift to quartet champions is the crown, and it lives on as a lovely and lasting tradition of our organization.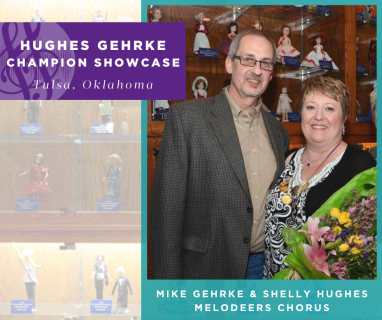 Hughes Gehrke Doll Champion Showcase
Dolls representing all our champion choruses and quartets, each dressed in a handmade replica of the costume the singers wore on the international stage. The dolls are housed and lovingly cared for at Sweet Adelines International Headquarters in Tulsa, Oklahoma (USA) in the Hughes Gehrke Champion Showcase. We are very grateful for the generosity of Shelly Hughes and Mike Gehrke. Thanks to their philanthropic support, we are able to acknowledge the success of our quartets and choruses over the years in this special way.
President's Lifetime Achievement Award
The President's Lifetime Achievement Award is chosen by the current International President to acknowledge a Sweet Adeline who possesses "our most valued qualities of service and leadership to Sweet Adelines International."
Ann Gooch Award
The Ann Gooch Award is presented to members from outside North America who have contributed significantly to the furtherance of barbershop in the worldwide area.
Sweet Adelines Music Educator Award
The Sweet Adelines Music Educator Award is presented each year to an outstanding music educator who has embodied our Guiding Principles of musical excellence, culture of belonging, diversity & inclusion, personal empowerment and leadership, and outreach by using their expertise to promote barbershop-style singing in their schools.
Why do you sing? We conducted a survey of Sweet Adelines around the world to find out what keeps them ringing chords.
75th Anniversary Commemorative Album
What an amazing testimony to this organization to be able to celebrate 75 years of inspiring and empowering voices to joyfully harmonize the world. On behalf of the International Board of Directors, we hope you enjoy this free e-book and feel the joy of belonging to such a wonderful community that is so beautifully celebrated in this holiday gift offering. We especially thank Shelly Hughes and Mike Gehrke for their generous gift in the underwriting of this project.
Sweet Adelines Day
Singin' on Tulsa Time…On July 13, music fans around the world celebrate Barbershop Music Appreciation Day – a day that commemorates the founding of Sweet Adelines International in Tulsa, Oklahoma (USA). On our 75th birthday as an organization, Tulsa Mayor G.T. Bynum issued a proclamation in honor of Sweet Adelines International. Happy Sweet Adelines Day!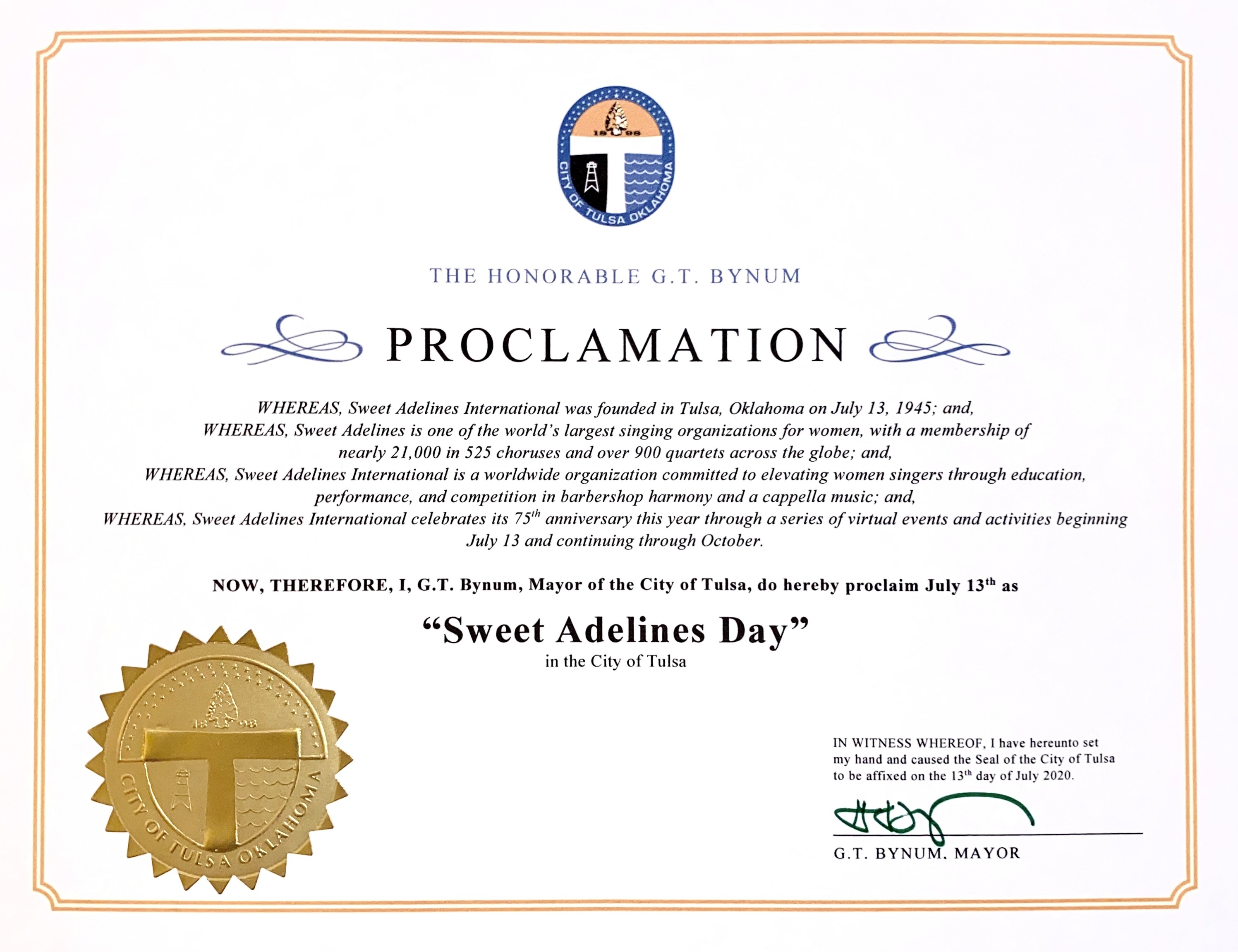 The Pitch Pipe: "Countdown to 75 Years"
Read about unusual gigs, important happenings, and other Sweet Adelines historical highlights — and check out retro costumes and hairdos — in the "Countdown to 75" articles from The Pitch Pipe! Each article is separated by decade, so click/tap on your favorite to find out what was going on in our early years.
Sweet Adelines Trivia
It's Trivia Time, Sweet Adelines! Tuesdays and Thursdays between July 13 and Oct. 17, answer a Sweet Adelines trivia question in the comment section on Facebook. Winners' names will be listed on the following day. It's part of our #SweetAds75 virtual celebration!
Sweet Adelines Stories
What's Sweet Adelines life like? In celebration of our 75th anniversary, Sweet Adelines from around the world shared photos, videos, and memories of the barbershopping life.