Grants and Scholarships
Sweet Adelines International is proud to have impacted the lives of more than 75,000 singers through our competitive scholarship and education grants programming for young women. Thanks to the generous donations of our members, Sweet Adelines International has awarded more than $1.1 million to preserve the barbershop art form by investing in and propelling its future.
Grant Cycle 1
March 1–June 1
Supporting activities beginning no sooner than November.
Grant Cycle 2
August 1–November 1
Supporting activities beginning no sooner than May.
Scholarship Cycle
November 15–January 25
Music Education Grants
Music education grants are available to groups or organizations sponsoring or hosting barbershop education and performance opportunities for young women. Opportunities might include music festivals, education workshops or seminars, and/or other music education events. Send completed grant applications to grants@sweetadelines.com.
Grant Application Tutorial
Bev Sellers Memorial Scholarship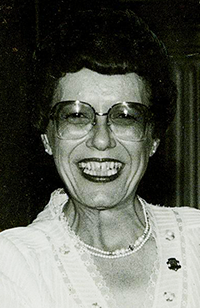 Named in honor of the beloved former International Board President's contributions to this organization.
Awarded for one academic year in the amount of $5,000 USD.
At least one winner awarded per scholarship cycle.
Scholarship Eligibility Requirements
Send completed scholarship application to scholarships@sweetadelines.com.

Completed at least one semester of university coursework with a GPA of 3.5.

Applicants must be involved in barbershop activities or affiliated with Sweet Adelines International for a minimum of one year, OR be involved in a Sweet Adelines Chorus or regionally sponsored young women's barbershop events for a minimum of one year.

Course of study must be in music education, vocal pedagogy or music composition at a four-year college or university and provide verification of enrollment.

Provide three signed letters of reference

See complete eligibility requirements in application.
2022 Bev Sellers Scholarship Recipient
2022 Bev Sellers Memorial Scholarship recipient Nicole Wilson has been involved with Sweet Adelines since the age of 3 and is now a vocal music major. Hear from Nicole and how the scholarship has impacted her bright future.
Questions?
For more information on available grants and scholarships, or to make a gift in support of these education programs, please email grants@sweetadelines.com, scholarships@sweetadelines.com or call Sweet Adelines International Headquarters at 1.918.622.1444 (Toll Free 1.800.992.7464).