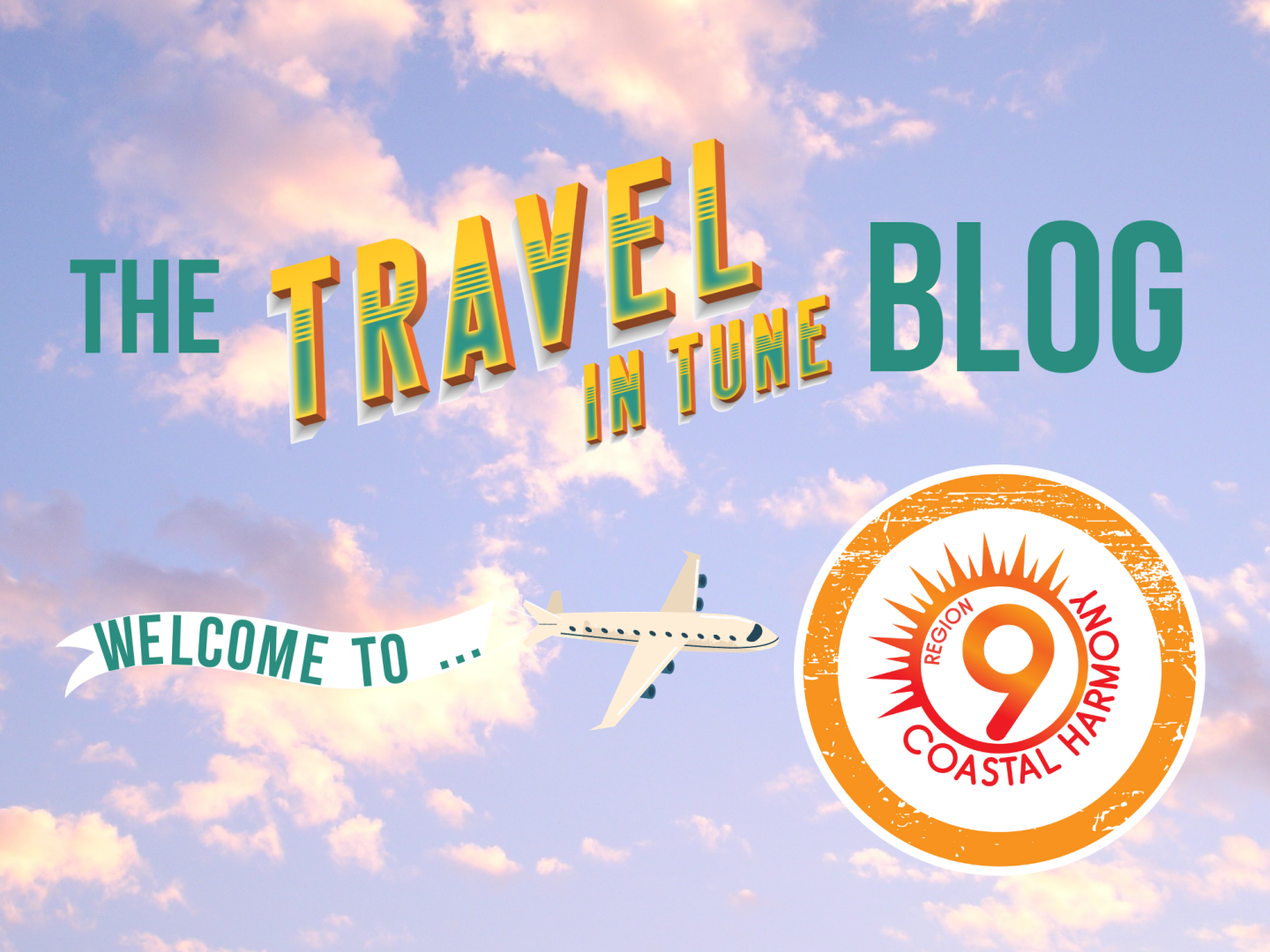 April 21, 2021
Region #9: Brighter Than Sunshine
Here we are, Sweet Adelines! We are so glad that so many of you have visited the first Travel in Tune destination, Region #9, where it's "Brighter Than Sunshine." It's not just an expression: Region #9 Coastal Harmony includes the states of Florida, southern Georgia, and the southernmost tip of South Carolina in the United States. Beautiful beaches, warm weather, and flowers in abundance make up this part of the country. Region #9 includes over 800 members in 18 choruses and 30 quartets. Our most recent claim to fame is that we are home to the 2019 Rising Star Champion Quartet, Duly Noted and 2020 International Champion Quartet, Viva!
When you visit Region #9 on Travel in Tune, you join the dynamic duo flight attendants Tony De Rosa and Debbie Cleveland on Region 9 Sunshine Airlines, a witty airline with the world's catchiest barbershop tag jingle! Your journey begins with a warm-up from Sound of Sunshine Chorus choreographer Debbie Dennis, followed by exciting education from DeeDee Kastler and Karen Breidert. You also get a visit from the 2015 International Champion Quartet, Bling!
Speaking of champions, get in the spirit of your Travel in Tune adventure by watching this video of 2019 Region #9 Champions, Ringtones quartet and Spirit of the Gulf Chorus. The jazzy rhythm of Ringtones and the emotionally moving, big chord sound of Spirit of the Gulf Chorus help showcase the wide range of styles in our region full of sun, fun, and barbershop harmony.
Climb aboard Region #9 Sunshine Airlines for your first Travel in Tune adventure or join us again for another uplifting journey to the region that is "Brighter Than Sunshine"!
Click/tap on the Region #9 Passport Stamp to travel to your destination:
Are you interested in joining us for Travel in Tune?
Travel in Tune allows everyone virtually experience the exceptional cultures, personalities, and educational programs of each of our regions. To travel to any past destinations, visit the "Past Destinations" section at www.sweetadelines.com/travel-in-tune.
We look forward to traveling together!