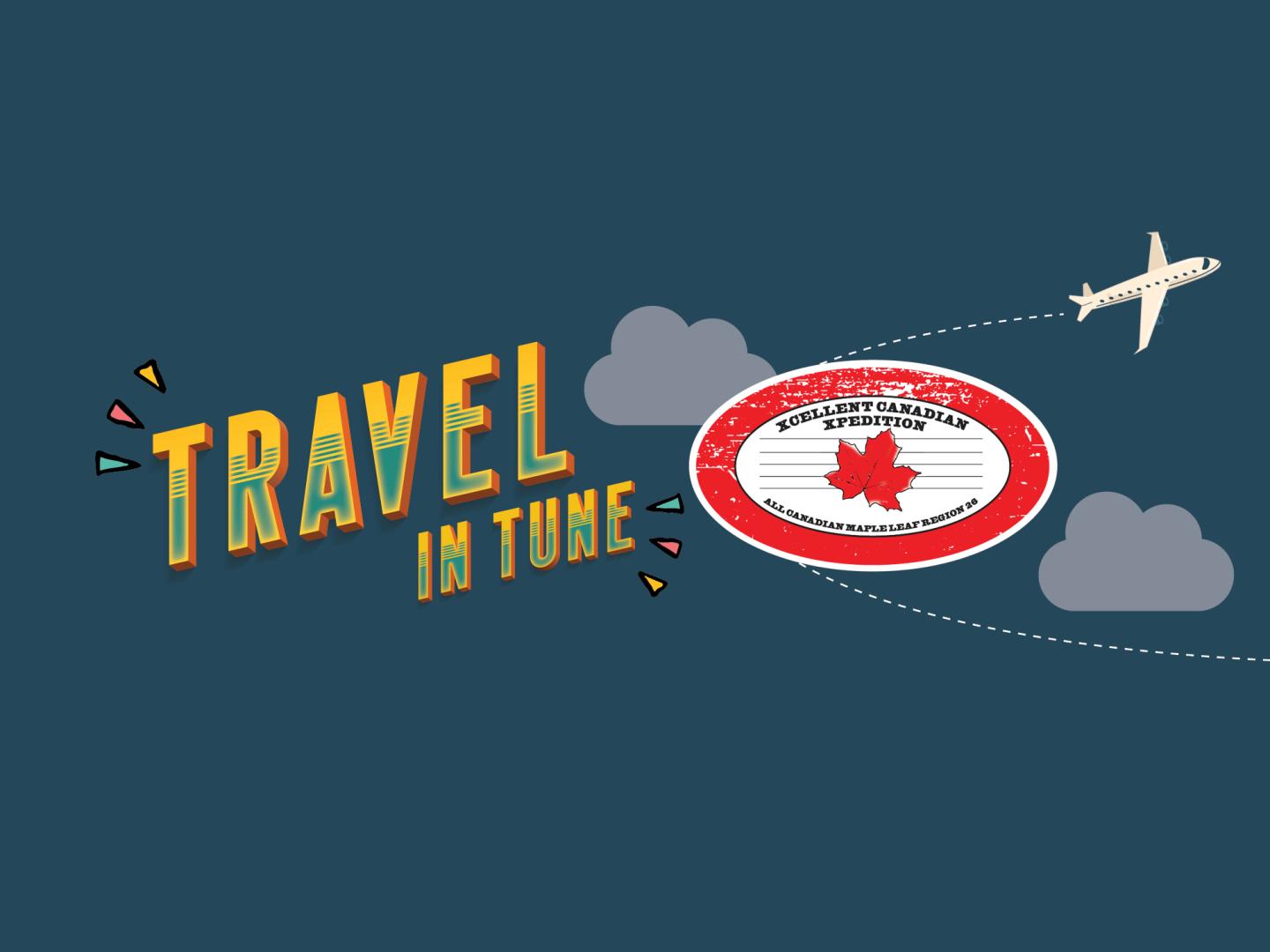 September 17, 2021
Welcome to your Travel in Tune blog destination, Region #26 Canadian Maple Leaf!
How's it goin', eh? As the only 100% Canadian Region, Region #26 is made up of six provinces and territories — BC, Alberta, Saskatchewan, Northwest Territories, Yukon Territory and Nunavut. We span 5,970,386 square kilometres (2,797,977 square miles), 4 time zones, and 19 Plant Hardiness Zones (0a–9a). I'm sure you've been regaled with records of our beautiful beaches, famous forests, majestic mountains, breathtaking badlands, and labyrinthine lakes, but did you know…
Nanaimo, BC is the Bathtub Racing capital of the world.
The world's first UFO Landing Pad was built in St Paul, AB.
The world's largest paperclip is located in Kipling, SK.
Snag, YT boasts Canada's lowest recorded temperature at -63 °C (-81 °F).
Yellowknife, NT is the only city in the entire territory, and that...
Alert, Nunavut is the world's northernmost permanently inhabited place? (But don't worry, we won't expect you to portage a canoe from there.)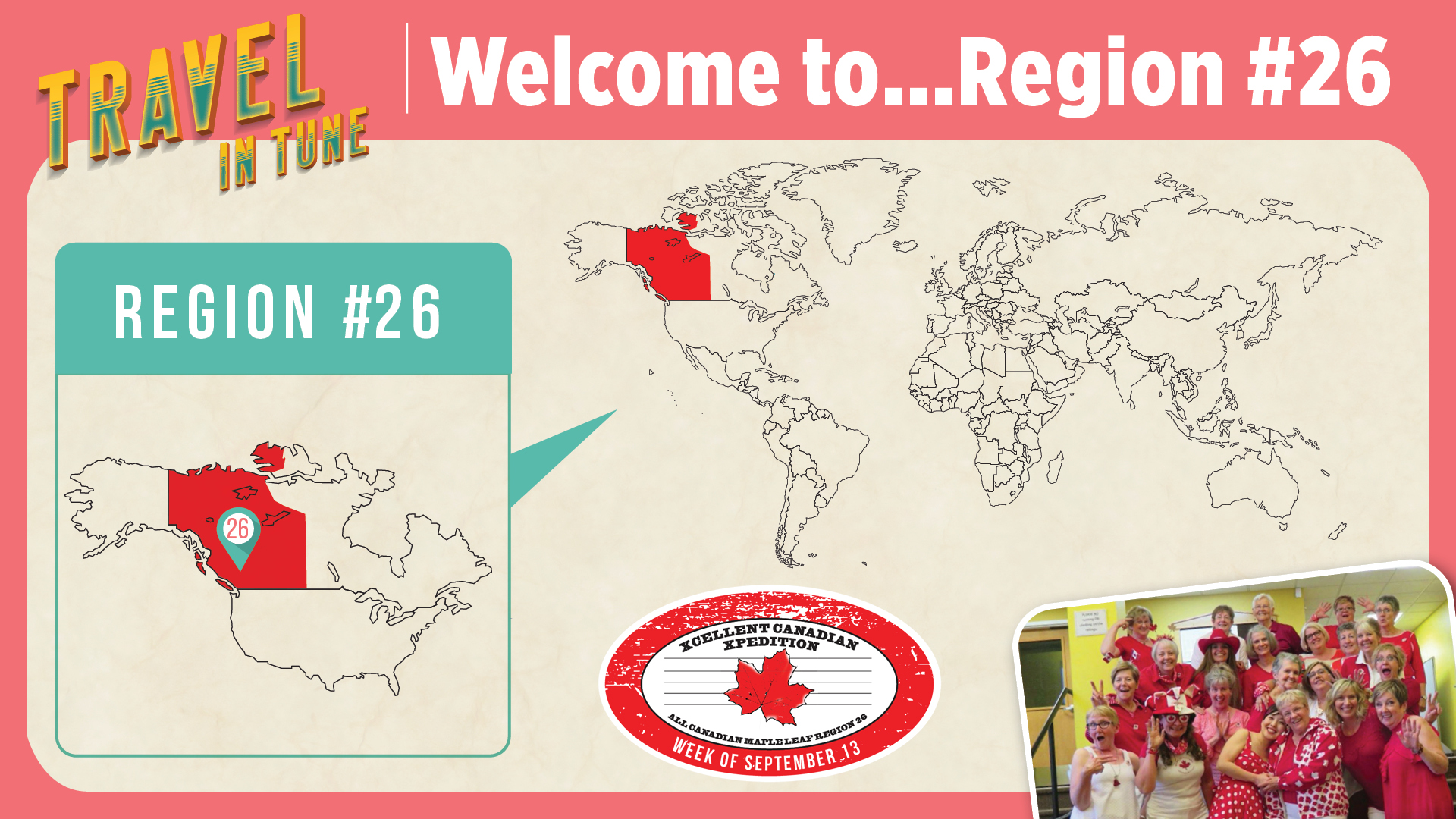 Select the image above to Travel to Region #26 Canadian Maple Leaf.
Hang up your toque and relax with a Double-Double while we tell you a bit about ourselves.
We may have been "Sparkling new in '82", but the Maple Leaf Region has grown to over 800 members in 23 chartered choruses and embraces a quantity of quartets. We're proud to be home to International Quartet Champions Brava!, Martini, and FRENZY; International Silver Medalists Lions Gate Chorus; and Harmony Classic Medalists Prairie Gold Chorus, Gateway Chorus, Rhythm of the Rockies Chorus, Vocal Motion! Chorus, Pacific Edge Chorus, and Westcoast Harmony Chorus. 
With all this talent, it was no surprise that our members leapt at the opportunity to play a round or two of Quartet Roulette during the Pandemic.
After all, how often do you get the chance to learn a tag, sing any voice part you want with three randomly assigned members from across your Region, and create multi frame collage videos… without leaving your home! The result? Some highly entertaining tag performances that were surely inspired by our 2019 Quartet Champions, No Strings. Watch their 2019 Quartet Semifinals performance, including the chart "I'll Be Easy To Find" arranged by our very own Master Music Arranger Joey Minshall:
The skills honed playing Quartet Roulette found another purpose in an explosion of virtual choir projects, including this beautiful message from our 2019 Chorus Champions, Westcoast Harmony:
Westcoast Harmony Chorus, under the direction of Anne Downton "Go The Distance" from the Disney animated film, Hercules Arranger: Aaron Dale Lyrics by David Zippel, Music by Alan Menken Audio Editing: Anne Downton Video Editing: Erica Yan For more information or membership inquiries, visit www.westcoastsings.com.
We're so excited you've added our Region to your destination schedule!
If you'd like to learn more about our Region, visit our website and social media sites:
Click/tap on the Region #26 passport stamp to travel to your destination: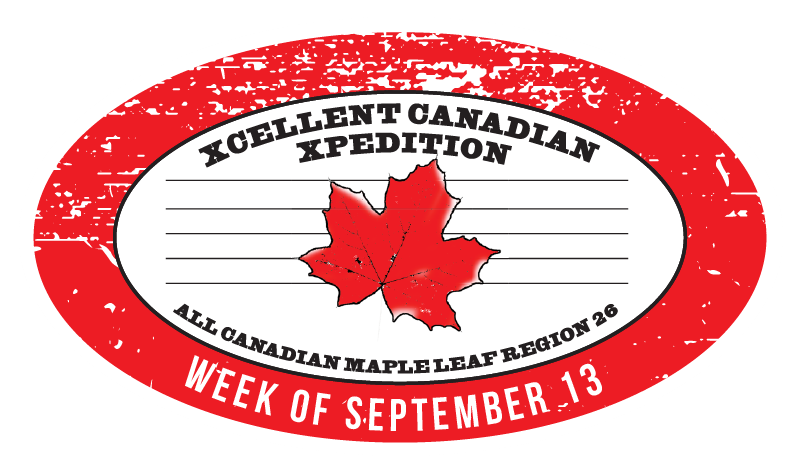 Are you interested in joining us for Travel in Tune?
Travel in Tune allows everyone virtually experience the exceptional cultures, personalities, and educational programs of each of our regions. To travel to any past destinations, visit the "Past Destinations" section at www.sweetadelines.com/travel-in-tune.
We look forward to traveling together!