Historical Display
See our history unfold in a series of historical displays showcasing 75 years of ringing chords together! The Sweet Adelines Historical Display Task Force is collecting photos for possible use in our 75th Anniversary Historical Display in Louisville. Use the button below to complete the release form and upload your photos!
The Pitch Pipe Feature Articles
Read about unusual gigs, important happenings, and other Sweet Adelines historical highlights — and check out retro costumes and hairdos — in the "Countdown to 75" articles from The Pitch Pipe! Each article is separated by decade, so click on your favorite to find out what was going on in our early years.
Diamond Afterglow
Go barbershoppin' and glow-hoppin'! Dance the night away at the Diamond Afterglow and celebrate our 75th anniversary and a great week in Louisville. Music for the Saturday night closing party will be provided by DJ Jaybird, one of Kentucky's most popular dance DJs. Stay tuned for more info!
Opening Session Hat Parade
Sweet Adelines International invites every chorus, both competing and non-competing, to create a "derby-style" hat reflecting their chorus and region to be showcased in the Opening Session Parade of Hats on Tuesday, October 13 at 5:15 p.m. to kick off our International Convention and Competition in Louisville. More info coming soon!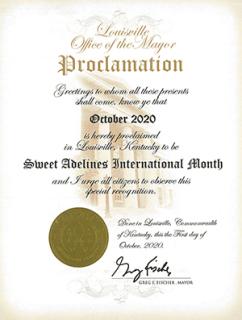 October 2020
Louisville Mayor Greg Fischer has recognized Sweet Adelines 2020 International Convention and Competition with a formal Proclamation... "know ye that October 2020 is hereby proclaimed in Louisville, Kentucky to be 'Sweet Adelines International Month' and I urge all citizens to observe this special recognition." Our countdown to 75 years has reached another high note!