The Pitch Pipe Feature Articles
Read about unusual gigs, important happenings, and other Sweet Adelines historical highlights — and check out retro costumes and hairdos — in the "Countdown to 75" articles from The Pitch Pipe! Each article is separated by decade, so click on your favorite to find out what was going on in our early years.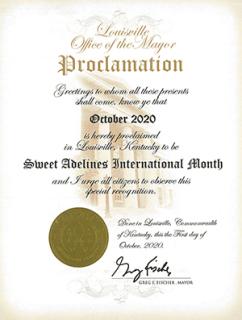 October 2020
Louisville Mayor Greg Fischer has recognized Sweet Adelines 2020 International Convention and Competition with a formal Proclamation... "know ye that October 2020 is hereby proclaimed in Louisville, Kentucky to be 'Sweet Adelines International Month' and I urge all citizens to observe this special recognition."
Our countdown to 75 years has reached another high note!